Medieval intrigue in Moira man's first book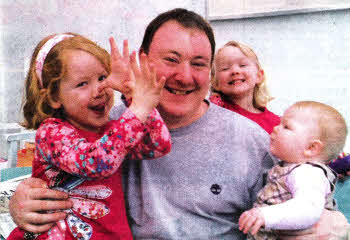 Tim Hodkinson with his children Emily, Clara and Alice.
MURDER, mystery and intrigue in medieval Ireland form the basis of the first novel by a local man.
'Lions of the Grail' by Moira man Tim Hodkinson is set around Carrickfergus in 1315. Influenced by the film Braveheart and the works of George R Martin and Bernard Cornwell, Tim has written a fictional book which covers the bloody siege at Carrickfergus Castle.
The story centres around the hero Knight Templar Richard Savage who is imprisoned and condemned as a heretic. He gets a reprieve from the King but must work as a spy for the King and return to his native land of Ireland. England and Scotland are at war but back in Carrickfergus Savage doesn't know who to trust, and gets embroiled in murder, intrigue as well as meeting his old love Alys, whom he left behind to search for the Holy Grail.
With Celtic mythology and medieval folklore the plot takes in the bloody siege of Carrickfergus castle as well as the eventful history of the era.
Tim (40) originally from Lisburn and a former Wallace High School student, began writing the book while studying English at Queens University Belfast.
"I always loved writing, even as a child I loved making up stories," said Tim who works as an engineer.
"But like many people life gets in the way and so marriage and krds came along and my book remained unfinished.
"Then as I neared my 40th birthday and as part of my mid life crisis, I decided it was time to finish it.
"The story of the 1315 invasion of Ireland by the Scots is not one that is generally well known here but it is well worth telling. At the point my book ends, the army of Edward Bruce (Robert's brother) has just landed at Larne and the battle has only started. There followed years of war including sieges, street fighting, scorched earth and even cannibalism. I would love to tell the rest of it and luckily it is currently looking like there is enough interest to continue the adventures of Richard Savage.
"I think we all have very set notions of what the 'history' of this country is, and that is because we look at the past and project our modern perceptions onto it. Whenever you start to really learn about what happened, incidents keep cropping up that show our modern perceptions are often distorted, and sometimes wrong. For example, a direct influence on me starting the book was the movie 'Braveheart, which includes a scene where the Irish join forces with the Scots against the English.
'As someone who read medieval history and literature at University, this had me jumping up and down and shouting 'hang on that's not right'.
"In that particular war, the Irish fought with the English against the Scots and did so with enough enthusiasm and success to warrant mentions in the medieval chronicles. Then the first thing the Scottish did after the struggle for freedom from the English was to invade Ireland, causing a vast amount of hardship and devastation for everyone here. None of this fits easily with our modern perceptions of history as its not an easily grasped story of heroes and villains, allies and enemies
"However it is ironies like this that fascinate me and it was one of the driving forces that prompted me to write about that period. Don't get me wrong though: The book is first and foremost a (hopefully) gripping adventure tale." Printed copies of Lions of the Grail are available in Easons, Lisburn Museum gift shop, Hillsborough Courthouse tourist information centre and the Carrickfergus Castle and museum gift shops (£10.99) or online at lulu.com
(www.lulu.com/product/paperback/lions-of-the-grail/16682553). The electonic version (ebook) is also available for the Kindle from Amazon (www.amazon.co.uk/Lionsof-the-Grail-ebook/dp/B0055DW79E/) (£2.50) or for the iPad from Smashwords (www.smashwords.com).
Tim Hodkinson with his children Emily, Clara and Alice.
Ulster Star
02/09/2011