22 months old, and special Isla's already a cover girl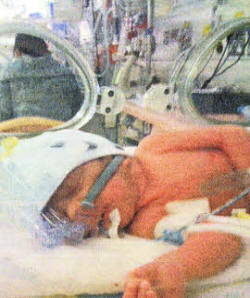 Isla in hospital (above) and in the Calendar (right).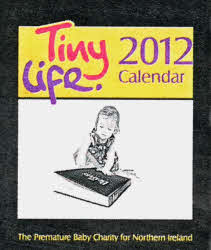 A NEW calendar starring children from across Northern Ireland has gone on sale to raise funds for premature baby charity TinyLife, and it features one very special little Lisburn girl.
Isla Hassard, aged 22 months, has been selected to star in the calendar alongside of 17 other babies, toddlers and children who experienced a difficult start to life following a premature birth.
The calendar, shot by Venture Photography, tells the stories of families with children who were
born prematurely and have received support from TinyLife.
Isla was born at 31 weeks weighing 3lb 6oz by emergency c-section after her mother Sarah had an eclamptic seizure.
She is the calendar's cover girl and he photograph shows her playing with her Dad Richard's favourite book about the Beatles.
Isla's mum Sarah said the hardest thing about having Isla prematurely was not being able to take her home straight away. "The Ulster hospital team were fantastic but it was an emotionally and physically exhausting experience travelling to and from the hospital and not being able to take our baby home for almost a month," she explained.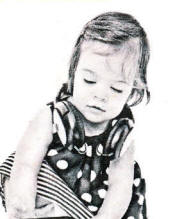 "Looking back on everything, we wonder how we got through it but it has made us stronger as a family. We now have an amazing little girl, it's hard to believe that Isla was once a tiny bundle in an incubator.
"TinyLife were a great support to us following Isla's birth and we are now involved in fundraising events for this fantastic charity."
Julie McBride, Managing Director at Venture Photography Northern Ireland, said they were pleased to be able to support the calendar for the fifth year running. "At Venture we don't just take photographs, we tell stories," she said. "The families with children in this calendar have remarkable stories to tell and we feel privileged to have been able to produce this calendar which will hopefully inspire others dealing with sick or premature children."
Samara Prentice from TinyLife said: "We are delighted to be associated with Venture for the
fifth year running to produce this calendar. It provides hope and inspiration for families coping with the arrival of a sick or premature baby and shows children thriving despite an incredibly difficult start to life. "All of the families involved have really enjoyed taking part and love the final result. We're all really proud of our little calendar stars and hope the public gets a lot of enjoyment from the calendar when it goes on sale later this month."
The calendar is on sale for £5 and is available from Venture Northern Ireland by calling 92 662 742 or by visiting 2 Market Place, Lisburn. To order from TinyLife directly call 9081 5050.
julieann.spence@ulsterstar.co.uk
Ulster Star
04/11/2011