TK Maxx pulling out of Lisburn
RETAILER CLOSING IN BOW STREET MALL IN JUNE
by MARY MAGEE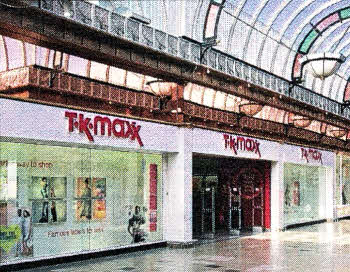 THE future of 31 employees at TK Maxx is uncertain after it was announced this week the company will close its store in Bow Street Mall this summer.
TK Maxx, which specialises in selling designer clothes at discount prices, is the 10th largest fashion retailer in the UK and has been based in Lisburn for nine years.
The store will close for the last time at the beginning of June.
In a statement TK Maxx said it was `with regret' they had made their decision. "On February 8 it was announced that TK Maxx will not be renewing the lease on its store in the Bow Street Mall shopping centre, Lisburn and regrettably the store will be closing on June 3," the company said.
"At TK Maxx, we are always assessing and reviewing property strategies and the decision to close this store is in line with this thinking.
"We would like to thank our customers at the Lisburn store for their patronage since the store first opened on September 20, 2001. TK Maxx has a major presence in the Belfast area, and we look forward to continuing to serve customers in what is a strong market for us."
The statement said all 31 employees will be offered jobs elsewhere.
"We are offering them our full support during this difficult process including individual discussions regarding opportunities for employment in the nearby stores.
The news came in the same week that popular wine bar Bar Burgandy closed. Councillor Allan Ewart, the Chairman of Lisburn City Centre Management said the closure was a blow to the city.
"I am very disappointed at the loss to Lisburn City Centre and feel for the staff for their job situation," he said. "As we all know the current economic climate is putting stress on large multinational and small independent businesses alike and there have been a number of business closures over the past year.
"Equally though, there have been several independent retailers such as Yellow Door, Tiger Lily and Sports Solutions and larger chains such as S&R Electric, World of Furniture and Pandora all opening stores within the City in the past year. I am confident that Lisburn still has lots to offer visitors and shoppers alike and I believe that our City's strong reputation as a good shopping destination will continue to attract shoppers and new retailers to the City."
Environment Minister Edwin Poots said he was shocked by the decision. It was a store that was widely used by the younger people who were able to pick up designer labels at affordable prices," he said. "It will be sorely missed as it was one of the key stores in the mall.
"I trust that the mall will be able to reuse this space and find another tenant quickly."
Ulster Star
18/02/2011