Tom celebrates 100 years with special party
by MARY MAGEE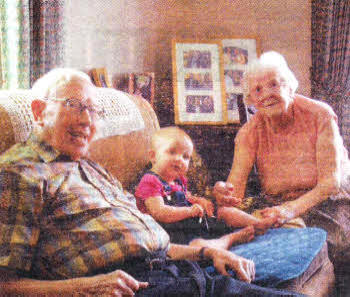 Tom Hinds with his wife Betty and great granddaughter.
A SPECIAL birthday was celebrated by a well known local man this week.
Former Broomhedge man Tom Hinds, who was Group Secretary for the Lagan Group of the Ulster Farmers Union for many years, turned 100 this week.
Originally from the Knocknarea Road Tom, who now lives in England with wife Betty, was born on August 24, 1911. He was the second eldest of a family of eight who included Bob, Jack, Lee, Jean, Esmie, Hetty and Claire.
He met Betty, who lived less than a mile from him at Mullaghacarton Road, and they were married in 1944. They had two sons Laurie and David and now have two grandchildren Anna and Tara and two great granddaughters.
Nephew Tom Best from Moira described his much loved uncle as 'remarkable'.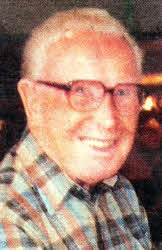 "Tom is such an amazing and remarkable man," he said. "It has been some years since he has been over but he was really agile. When he came over he would have walked into the village. He was so fit. It was me who found it hard to keep up. He was even driving up until three years ago."
Tom said that even when his uncle was in his 70's he would drive from their home at Brentwood in Essex along with his wife, to see her friend in Geneva.
During the Second World War Tom served with the 8th Army in north Africa, Egypt and then Italy. He became an expert at Rifle Target practice and continued his love of shooting while in civilian life.
Through a local gun club Tom competed for some years at Bisley where he gained many awards.
After working for Pearl Insurance he later became Group Secretary for the Lagan Group of the Ulster Farmers Union.
Tom had been Group Secretary in County Armagh before moving to Lisburn where he managed the Lagan Group UFU for around 20 years,
The group comprised seven branches with around 800 members in Moira, Donacloney, Dromore, Hillsborough, Larchfield, Drumbeg, Hillhall and Drumbo.
Each branch had a programme of monthly meetings over the winter arranged and attended by Tom.
He retired in 1976 at the age of 65. He and his wife, who lived at Beechdene Park for many years, later moved to Brentwood in Essex to be closer to their sons who both lived in England.
This week he received a telegram from the Queen and an acknowledgement from the Irish government.
Ulster Star
26/08/2011