Vintage club prepares for big charity show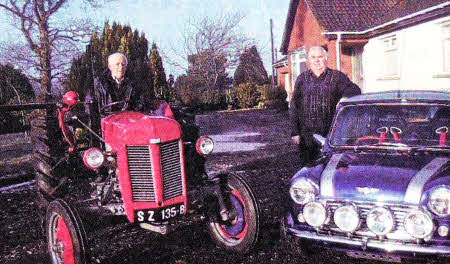 Bertie McCallister with his 1954 TVO Ferguson and Jim Crossey with his 1991 Mini Cooper. Both men, who are from Hillsborough, are members of The Glenavy & District Vintage Club and are currently preparing for the forthcoming indoor show. They are big supporters of the club.
MEMBERS of The Glenavy & District Vintage 'Club are currently preparing for the Annual Charity Indoor Show 2011, which will raise funds for Macmillan Cancer Support and the Friends of the Cancer Centre at Belfast City Hospital.
This year finds the club's Annual Charity Indoor Show at a new venue, with the event taking place at Danescroft Equestrian Centre, Waterloo Road, Lisburn on Friday March 4 from 4-9pm and Saturday March 5 from 10am-4.30pm.
The Indoor Show will include old Tractors, Vintage Cars, Lorries, Motorcycles and various auto jumble stalls.
Car parking is free of charge and the admission charges are £5 for aduites, £3 for OAP's and students, and children go free.
The Equestrian Centre is off the Ravarnet Road, approximately 1 mile from the M1/ Sprucefield Junction and 1.5 miles from Lisburn off the Ballynahinch Road. Signs will be clearly displayed to the event.
A collection of new Tractors will also be displayed at the show.
Last year's show saw Macmillan Nurses and Fleming Fulton School each receive a cheque for £1,500.
All exhibitors are welcome and should have their exhibits on site by 9pm on Thursday March 3. There will be overnight security provided during the show.
Further information can be obtained from the club Secretary, Mark Anderson on 07751838208.
Ulster Star
04/02/2011