School fingerprint registration gets the thumbs up at Wallace
by JENNY MONROE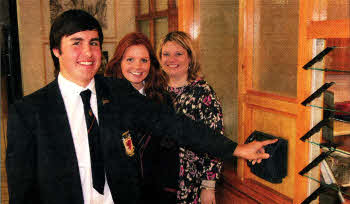 Head Boy Matthew Ballantyne, Head Girl Jenny McDowell and Vlce Chair of the Wallace PTA Mrs. Julie Dumigan using the new biometrlc registration system for Year 14 pupils at the school.
THE days of morning roll call are over for senior students at Wallace High after the school installed a new system which allows pupils to register each day using fingerprint technology.
And the system, which was installed by Lisburn firm North Time & Data Limited, has been given the thumbs up by the school.
Pupils register independently of tutors or teachers, by using fingerprint verification technology which guarantees the student who registered is the student in the class.
Company Sales Director Stephen Brown said a lot of valuable time is wasted by teachers registering students' attendance during classes.
He said encouraging students to take responsibility for registering their attendance themselves, saved teaching time.
With our system, students can quickly and easily register their own attendance when coming to class. Fighting truancy has never been so easy" he said.
He added: The software has been tested and verified by C2K and Northgate for use in Northern Ireland Schools."
Vice Principal of Wallace Alastair Craig said: "We have sought to streamline one as
pect of morning registration of pupils by introducing biometric registration, that is, registration by fingerprint.
"In doing so we have followed the 'Becta guidance on biometric technologies in schools'. Consequently students or parents not wishing to register in this way are issued with a unique code for that purpose."
He continued: "All of our Year 14 students now register by this means in their social area and all students who arrive after normal registration also 'clock in' in this way. We have been delighted how quickly our students have adapted to the new arrangements and its introduction has without doubt improved the morning routine for both staff and pupils involved. We have greatly appreciated the significant contribution made to the funding of this initiative by the PTA."
All the attendance information held in Student Registration Software is exported to the school's SIMS system providing information for the student records.
Julie Dumigan, Vice Chair of the Wallace PTA, said: "The PTA is delighted to fund biometric registration and are very proud to help The Wallace High School continue to be at the cutting edge in this digital era."
ster Star
30/09/2011