Wallace Prep pupils perform first Nativity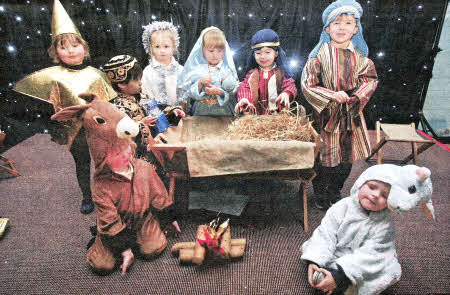 The children perform the Nativity at Wallace High School Pre-Pre. US5011-11OA0
THE children from the Wallace High School Pre-Prep have held their first Nativity play. Mrs. Corinne Latham, Head of Preparatory, welcomed the large crowd. The traditional message of the Christmas story was retold by pupils of both morning and afternoon sessions.
Mrs. A. Mulholland, Pre-Prep Leader, said she was overwhelmed by the support for the children.
"We are delighted that so many parents and friends of our pupils could attend our first Nativity" she said. "Our children have worked extremely hard to remember their lines and we are extremely proud of all the pupils."
Afterwards, Mr S. Baird, parent and member of the Board of Governors, formally thanked all involved in the production and added: "Today, we have been reminded of the true meaning of Christmas."
Parents and friends then enjoyed some festive refreshments before taking their little stars home.
Ulster Star
23/12/2011