Pupils hear of Ray's unique sporting career
by GARY ELLIS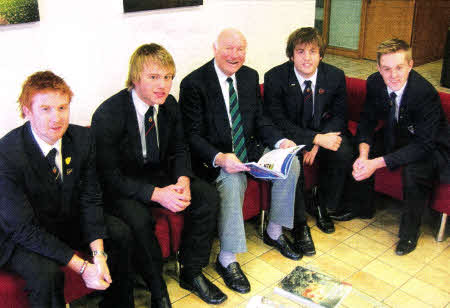 Current Wallace High School rugby players welcome Raymond Hunter, past pupil and British Lion to school recently
A FORMER pupil of Wallace High School returned this week to share memories of an illustrious sporting career.
Raymond Hunter, who had the rare ability to excel at many sports, also presented the school with an international cap during his visit with wife Maureen.
Raymond was Head Boy in 1955 and achieved a level of sporting excellence which is unlikely to be repeated in the modern era. As a schoolboy he gained representative honours in football, hockey, cricket and rugby. Indeed he was the first Wallace pupil to earn a representative hockey cap
Primarily he will be remembered in Lisburn and further afield for his outstanding careers in both senior rugby and cricket. Having made his Ulster rugby debut in 1961, he was capped by Ireland against England in the same season and went on to gain ten full caps. He played for the Barbarians twice and achieved his greatest honour in 1962 when he was chosen for the British Lions tour to South Africa, an experience which he relished telling current 1st XV players at Wallace about.
Stewart Evans, current 1st XV captain was understandably delighted to meet Raymond and commented: "We are all proud of the fact the Ulster rugby squad includes Chris Henry, Ian Whitten and Nevin Spence, all former pupils of the school.
"To get the opportunity to meet Raymond Hunter was brilliant and we all enjoyed listening to his stories, particularly from his Lions tour to South Africa."
Raymond also had a distinguished cricket career having made his senior international debut as a nineteen year old and went on to captain Ireland in that sporting field.
Mrs Deborah O'Hare, Principal of Wallace, shared coffee with Raymond and his wife and senior prefects and enjoyed looking at the scrap books which chronicled many of his achievements, as well as talking about his school days: "I was delighted to welcome Raymond and his wife Maureen to school to learn more about his outstanding sporting successes both inside and outside school. It was with great pride we accepted the cap on behalf of the Wallace community as a gift from Mr. Hunter."
Ulster Star
14/01/2011