Well known Lisburn bandsman passes away in France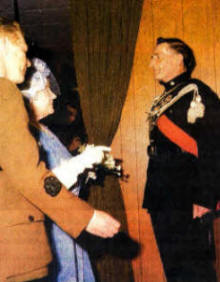 A WELL known Lisburn man, William Hickey BEM, passed away last month.
Billy, as he was known to his friends, was born in 1926 and lived in Wallace Avenue.
After his education he joined the Grenadier Guards and quickly rose through the ranks to become an All Arms Drill Instructor at Pirbright. One highlight of his army career was to be a route liner at the coronation of Queen Elizabeth II.
After retirement from the army Billy moved back to Lisburn and was employed at Grundig in Dunmurry, building televisions and other Hi-Fi equipment. He then moved to MAM Electronics in the same line of business.
During this time he joined Lisburn Silver Band and was the Drum Major.
He also had become a member of the Territorial Army and was the Drum Major for the TA Staff Band which he led in some very high profile engagements such as Trooping the Colour in the Isle of Man for the 6th Battalion the Royal Ulster Rifles; the Royal Parade of the Irish Regiments when he was the Senior Drum Major at Wembley in front of the Queen Mother — the proudest moment in
his life" , he often said; the Trooping the Colour for the 5th Battalion the Royal Irish Rangers in Ballymena for Princess Alice, Duchess of Gloucester and the 75th Anniversary Parade of the Territorial Army for the Queen Mother in 1983.
Billy was awarded the British Empire Medal (BEM) and retired from active service in 1987 when he worked as a Traffic Warden in Belfast for a short period.
He then retired to live in France where he passed away on December 27.
He is survived by his wife, Irene and son Colin and family.
Ulster Star
28/01/2011