Locals bid for world glory at WorldSkills finals in London
South Eastern Regional College (SERC) Refrigeration Apprentice and WorldSkills Finalist, Stuart Millar.
TWO local men are off to compete at the WorldSkills Finals in London from October 5-8 as they bid to become World Champions in their chosen professions.
Held every three years, WorldSkills is regarded as the Skills Olympics and thousands of athletes across the world have trained for years in a bid to realise their dream at next year's Olympics,
Amongst the locals taking part are Stuart Millar, a refrigeration apprentice from South Eastern Regional College (SERC) and Philip Green, a bricklaying trainee from Lisburn, who attends Belfast Metropolitan College and will compete in the Bricklaying category.
Stuart has been hand-picked from a pool of the elite refrigeration apprentices in the UK to compete at the WorldSkills Finals against the top apprentices in the world. WorldSkills provides a unique means of exchange and comparison of world-class competency standards in the industrial trades and service sectors of the global economy.
Stuart has put in hours of training and preparation so that he too, can realise his dream and be named a world champion.
Stuart boasts an impressive record in skills competitions. Under the tutelage of SERC Refrigeration
lectures Terry Nickels and Jesse Dhak, he was a stand-out apprentice during his time at the College. Stuart has won numerous SkillBuild Northern Ireland medals and in 2010 he was crowned top refrigeration apprentice in the United Kingdom when he won the SkillFridge UK Gold medal, going one better than 2009 when he collected the silver medal.
Ken Webb, Principal and Chief Executive said; With three years of training and preparation Stuart is in the best possible shape to compete for a Gold medal. On behalf of everyone at South Eastern Regional College and indeed the local community I would like to wish him luck for this once in a lifetime opportunity."
22-year-old Philip, meanwhile, said that competing at WorldSkills is the "pinnacle" of his profession.
Philip said: "You are basically up there with the elite now. There are over 1000 competitors from 35 different trades, it is quite an achievement to be at the finals.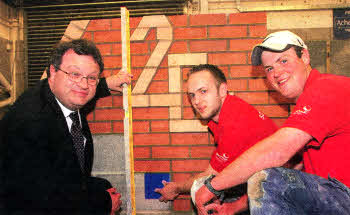 Lisburn bricklaying trainee Philip Green, who will be competing in the Worldskills final next week, with Wall and floor tiling trainee Ian McMahon and Employment and Learning Minister Dr. Stephen Farry at the Worldskills training camp held at North West Regional College in Limavady recently.
"I'm more excited than nervous, the way I look at it is that it is just another competition," he said.
Philip's category will see him compete against people from 24 different countries, including Korea, Australia and Colombia.
Philip has been training hard over the past year and his training and work has seen him travel each month, taking on different jobs or contests.
He explained; "I was at Buckingham Palace in July where I met Prince Andrew and I was part of the UK team working on the garden at Hampton Court Palace, I will also be working on the next Chelsea Flower Show so I've been getting about."
Philip will enjoy an opening and closing ceremony in the 02 Arena, London, as well as competing in his chosen field.
He said: "It will be a long week, but it will be good to be there. You meet a good bunch of people and I have made a lot of friends along the way."
Philip has been receiving some expert tuition ahead of the finals. He explained: "Mike Burdett is my WorldSkills training manager and he is an expert, this is his third time of going with competitors. Alan Stewart, my tutor at BMC has also helped me. He has put a lot of faith in me, it has been a lot of hard work to get here, but this is the icing on the cake." Philip, who works for his father, said his parents David and Maureen have been very supportive.
"I've been in full time training for the past year. I've basically put my life on hold for a year, so it has been a lot of hard work and dedication, but it is worth it now."
Ulster Star
30/09/2011