Q&A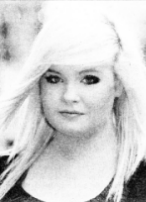 Q&A, Ann Graham. 16, from Lisburn, is pupil at Hunterhouse College and was at the Star to find out what life as a journalist is like.
What do you like doing on your day off?
I like to have a really relaxing time, including a huge lie in and seeing some friends.
If you were to choose your favourite meal what would it be, where and why?
Roast dinner at home - you can't beat it.
What has been your proudest moment?
It would probably be passing all my GCSE's.
What was the most frightening moment of your life?
On the 'Tower of Terror' ride at Disneyworid in Florida - never again.
How would you describe your taste in clothes?
Casual clothes most of the time but I love getting dressed up as any girl does.
What would you do if you won a million pounds?
Spend spend spend!
What was your most embarrassing moment?
Getting locked in a bathroom in Portrush for three hours.
What music do you like?
I like a bit of everything really but especially music like the Killers and Kasiaban.
What sports person do you most admire?
Alan Smith from Newscastie United, but not for his sporting talent.
Describe your best ever holiday. What would your dream holiday be?
My best ever holiday was probably in America because the people were nice and the night life was great. My dream holiday would be going to the Maldives because it's really beautiful and warm.
What is your greatest ambition?
To go to University and then get a ridiculously well paid job.
If you could spend a day with a celebrity whom would you choose?
Ashton Kutcber
If you were stranded on a desert island what three things would you want with you?
Sunglasses, insect repellent and preferably a plane ticket home.
FAVOURITE THINGS.....
| | |
| --- | --- |
| Car: | Mini Cooper |
| Film: | Braveheart |
| Comedian: | Jimmy Carr |
| CD: | Kasiban, Empire |
| Book: | Dear Nobody |
| Actor: | Brad Pitt |
| Actress: | Courteney Cox |
| Drink; | Soda water and lime |
Ulster Star
14/12/2007