Q&A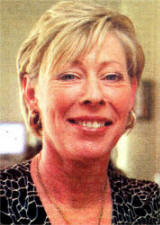 ANNETTE Hewitt, 49, is a Co-ordinator in Lisburn Volunteer Centre (LVC).
She joined LVC shortly after it opened in February 2004. Having worked in the private sector for most of her life Annette is now enjoying working in the voluntary sector. She lives in Dromara with her husband of twenty years Brian, their three goats Fudge, Toffee and Humbug, two cats Hector and Henrietta, and dog Dizzy.
What do you like doing on your day off?
Working in the garden. reading, listening to music, taking long walks with my dog.
If you were to choose your favourite meal what would it be, where and why?
Spaghetti Carbonara (no bacon. I'm a vegetarian) in the restaurant on the south side of the Piazza Navona in Rome - it's absolutely my favourite meal and place to eat.
What has been your proudest moment?
Helping to save the life of a person injured in a road traffic accident.
What was the most frightening moment of your life?
Helping to save the life of a person injured in the road traffic accident I mentioned.
How would you describe your taste in clothes? What's the most you ever spent on a single item?
Tailored for the office, smart/casual otherwise. Way too much
What would you do if you won a million pounds?
Faint, I've never won anything in my life.
What was your most embarrassing moment?
It was a number of years ago when I was paying a second visit to my sister in hospital who had given birth to a daughter. I walked into the ward, my sister wasn't there so I lifted the baby. a woman suddenly appeared, pulled the child from my arms and accused me of trying to abduct it. She was of course the baby's mother, and my sister had been moved to another ward. How was I to know it wasn't my niece, babies all look the same to me?
What music do you like?
Almost anything except country
What sports person do you most admire?
Hannah Shields and Janet Gray are astonishing individuals and are truly dedicated to their chosen sports.
Describe your best ever holiday.
When my husband and I spent five amazing weeks touring in Montana, Wyoming and South Dakota. I would really like to travel in South America. Peru or Argentina.
What is your greatest remaining ambition?
To have a long and happy retirement travelling the globe.
If you could spend a day with a celebrity whom would you choose?
David Attenborough
If you were stranded on a desert island what three things would you want with you?
My CDs. my books and an endless supply of Stella Artois.
FAVOURITE THINGS.....
| | |
| --- | --- |
| Car | Lamborghini Gallardo Superleggera |
| Film | The Godfather |
| Comedian | Jake O'Kane |
| CD | The Glory of Baroque (various artists) |
| Book | Pride and Prejudice |
| Actor | Marlon Brando |
| Actress | Bette Davis |
| Drink | Sauvignon Blanc |
Ulster Star
08/06/2007