Q&A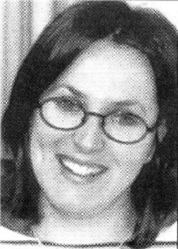 ASTRID McElwaine, 29, is the Communications and Fundraising Officer for Youth for Christ Northern Ireland. YFCNI runs a network of nine drop-in community centres around Northern Ireland where young people come to meet with friends in a safe environment and take part in projects. The organisation has four teams across the province and this year there is one at Lisburn Cathedral and another at Kilmakee Presbyterian Church.
What do you like doing on your day off?
Having a lie in and meet up with friends for brunch/lunch/dinner or all of the above and then watching a good movie
If you were to choose your favourite meal what would it be, where and why?
My dad's roast beef Sunday dinner because he does all the trimmings and it really is melt in the mouth.
What has been your proudest moment?
Getting engaged.
What was the most frightening moment of your life?
The summer I turned 21 I went to Cyprus with my best friend and we managed to get locked inside a Greek Orthodox Church one evening and had to bang the doors and scream to get out.
How would you describe your taste in clothes and what's the most you ever spent on a single item?
My taste in clothes would be fairly classic, I'm really not a shopper. The most I've ever spent on one item was my wedding dress that I'll be wearing in a few weeks.
What would you do if you won a million pounds?
First off all give a tenth to charity (YFCNI), then treat my family and go on holiday.
What music do you like?
Being half Norwegian I have to say A-Ha, I love Snowpatrol, Belle and Sebastian, the Killers.
What sports person do you most admire?
Andre Agassi.
Describe your best ever holiday.
Last summer I went to Australia with a friend, it was a perfect mix of dashing about and seeing landmarks and hanging out at the beach having a good laugh. Highlights were going to a real Surfclub, visiting Australia Zoo and seeing Sydney Opera House up close. My dream holiday would involve an adventure with a friend or friends anywhere slightly out of the ordinary.
What is your greatest ambition?
In travel lots and live abroad.
If you could spend a day with a celebrity whom would you choose?
Sarah Jessica Parker.
If you were stranded on a desert island what three things would you want with you?
A solar powered radio tuned into Virgin Radio, black eye liner and my glasses.

FAVOURITE THINGS.....
| | |
| --- | --- |
| Car | My own Polo |
| Film | Amelie/ The Usual Suspects |
| Comedian | Dara O'Briain |
| CD | Snowpatrol - Final Straw |
| Book | Girlfriend in a Coma by Douglas Coupland |
| Actor | Ben Stiller |
| Actress | Sarah Jessica Parker |
Ulster Star
12/01/2006