Q&A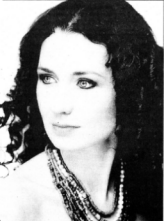 BREIGE Hanna, 31, is the youngest member of local band, the Hanna Sisters.
Breige and her sisters have been touring extensively throughout Europe for the past number of years and are currently finishing of their Irish tour. They are all classically trained musicians as well as qualified teachers.
What do you like doing on your day off?
Being a full time musician and the mother of twins I don't really understand the question.
If you were to choose your favourite meal what would it be, where and why?
Freshly caught Sea Bass in the Cafeteria, Blackrock, Melbourne, Australia (owned by my brother- in-law). Nice memories.
What has been your proudest moment?
The birth of my twins Jack and Tom.
What was the most frightening moment of your life?
A car crash a number of years ago, scary.
How would you describe your taste in clothes?
Trendy, modern, casual. The most I have spent was £180 on a pair of jeans, well worth it (not including my wedding dress).
What would you do if you won a million pounds?
Retire and make sure my family and friends were sorted out, give a few pounds to charity and buy a year's subscription to the Ulster Star!
What was your most embarrassing moment?
Losing my garter on my wedding day, a long story.
What music do you like?
I really like all types of music (except Rap).
What sports person do you most admire?
I love most sports, but would have to say Paul Scholes. I met him a few years ago and had a really good night in his company, an unassuming bloke and a great footballer.
Describe your best ever holiday.
Thailand , one week in Bangkok, which was unreal and two weeks chilling in Ko Samuai. My dream holiday would be a few weeks in Thailand and another few in Melbourne Australia, a really cool city.
What is your greatest remaining ambition?
To continue to make music and make sure my kids grow up happy and healthy.
If you could spend a day with a celebrity whom would you choose?
Kylie, just to see what she gets up to.
If you were stranded on a desert island what three things would you want with you?
Red wine. crisps and eye liner.
FAVOURITE THINGS.....
| | |
| --- | --- |
| Car - | Audi Q6 |
| Film - | It's a Wonderful Life. |
| Comedian - | Peter Kay |
| CD - | A Woman's Heart. |
| Book - | Peter Kay's Autobiography |
| Actor - | Hugh Grant |
| Actress - | Minnie Driver |
| Drink - | Red wine |
Ulster Star
18/05/2007