Q&A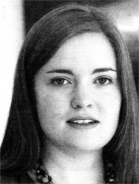 Catherine Keenan's exhibition of glass works and paintings ends on Saturday at Art Act Gallery. She graduated from the National College of Art and Design in 2006 and has been painting, making glass jewellery and commissioned wedding jewellery.
What do you like doing on your day off?
I like to go for a long walk by the coast, have a very long bath and go out dancing or play pool with my friends and/or siblings.
If you were to choose your favourite meal what would it be, where and why?
Burritos with lots of guacamole in Mexico on 'The Day of The Dead' - Mexican is my favourite type of food and I think that's a fascinating festival.
What has been your proudest moment?
My proudest moment was when I won a 'Little Mermaid' drawing competition in P4 - I got five tickets to see the film.
What was your most frightening moment?
I think I've had quite a fortunate life so far. I was maybe most frightened last summer when I was walking alone at night through Queens, New York to get to a friend's apartment.
How would you describe your taste in clothes?
I'm not much of a fashion follower. I like wearing bright colours and patterned clothes, a lot of them are vintage/second hand, also I love beaded earrings and necklaces. When I have the time I make some of my jewellery and alter/embellish my clothes.
What would you do if you won a million pounds?
I'd impulsively spend it on a round the world trip and sensibly use it to set up a glass blowing studio.
What music do you like?
I like quite a variety of music, but, in general, bands or musicians who write their own music.
What sports person do you most admire?
Apart from the Football World Cup, when we're in it, I have no interest in watching sport, but I admire them all for being bothered.
Describe your best ever holiday.
About five years ago my sister and I travelled through Italy, two of my closest friends were with us for a few weeks and we met our mum in Sardinia for a week - it's such a beautiful country, and not really having a plan was exciting. I'd love to do a round the world trip, though living out of a suitcase for a long time would be tough but there are so many places I want to see.
What is your greatest remaining ambition?
To have a successful career while also raising a family.
If you could spend a day with a celebrity whom would you choose?
I think I'd rather spend the day with my closest friends, we often aren't in the same place at the same time. Maybe I'm not very imaginative.
If you were stranded on a desert island what three things would you want with you?
A huge container of sunscreen, a mobile with a signal and a very big, very good book to keep me amused while the rescue team comes to get me.
FAVOURITE THINGS.....
| | |
| --- | --- |
| Car | Cream convertible Morris Minor |
| Film | Amelie |
| Comedian | Bill Bailey |
| CD | Too tough to choose one |
| Book | 'The God of Small Things' - Arundhati Roy |
| Actor | Michael Keaton |
| Actress | Abigail Breslin, little miss sunshine |
| Drink | Frozen Margarita |
Ulster Star
06/07/2007