Q&A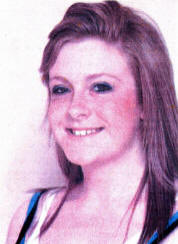 CLARE Manson, 16, from Lisburn is a member of local drama group Fusion Theatre. The group is staging a spectacular version of Jesus Christ Superstar in the Lagan Valley Island Hall from Thursday September 6 until Saturday September 8. Clare has a black belt in JuJutsu and loves performing on stage.
What do you like doing on your day off?
I enjoy going into town with a few of my mates to do some shopping.
If you were to choose your favourite meal what would it be, where and why?
I would have to be chicken curry and rice because I like spicy foods. My favourite Chinese restaurant is Good Luck in Dunmurry.
What has been your proudest moment?
Getting my black belt from the JuJutsu Martial arts organisation in Lisburn.
What was the most frightening moment of your life?
Walking into school on the morning of my GCSE results - it was nerve wrecking.
How would you describe your taste in clothes?
I am into a wide range of clothes including emo.
What would you do if you won a million pounds?
I would definitely give part of it to charity and then I would go on a huge holiday to Australia and of course put some of it away for education funds.
What was your most embarrassing moment?
When I walked into a lamp post in front of a crowd of people.
What music do you like?
I am into a wide range of music including some Dance. Metal. Emo and my all time favourite would have to be musical theatre.
What sports person do you most admire?
I don't really admire any particular sports person but I do look up to the Sensei (Teacher) in my JuJutsu organisation.
Describe your best ever holiday. What would your dream holiday be?
My best holiday ever was a little house in Cresslough in Donegal. Most nights we would be fishing or jumping off the pier. During the day we went to the beach. My dream holiday would be in Australia sitting on the beach and being able to watch the sunset with family or friends, having a good time. I would like to go somewhere I could paint pictures or take some interesting photographs.
What is your greatest remaining ambition?
To become a well known artist and photographer.
If you could spend a day with a celebrity whom would you choose?
It would have to be Kerry Ellis - a dancer, actor and an absolutely fabulous singer who recently played a main role in 'Wicked' in London.
If you were stranded on a desert island what three things would you want with you?
I would have to say my bed. mobile phone and a friend.
FAVOURITE THINGS.....
| | |
| --- | --- |
| Car | Renault Clio |
| Film | Cast Away |
| Comedian | Peter Kay |
| CD | Wicked |
| Book | The Far Away Tree - Enid Blyton |
| Actor | Tom Hanks |
| Actress | Kerry Ellis |
| Drink | Club Pomenranate |
Ulster Star
31/08/2007