Q&A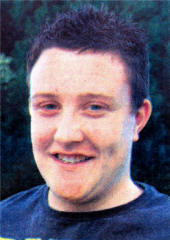 Conor Irvine, 16, from Upper Ballinderry, became the youngest person in Ulster to pilot a plane solo on his recent birthday. He has flown with the Ulster Flying Club for the past two years.
What do you like doing on your day off?
Enjoy a lie-in, followed by a round of golf at Edenmore and then go flying at the Ulster Flying Club and hang out with my friends in the evening.
If you were to choose your favourite meal what would it be, where and why?
My favourite meal is pizza, and the best pizza I have had is at Villa Italia, Belfast
What has been your proudest moment?
That was flying solo on my 16th birthday. It has been my ambition since I started flying at 14 and it all depended on good weather and passing my air law exam.
What was the most frightening moment of your life?
When I broke my knee playing football. The Doctor told me I needed an operation and that really frightened me.
How would you describe your taste in clothes?
I am a very casual dresser. I tend to spend more money on shoes.
What would you do if you won a million pounds?
Buy a house on the west coast of Florida, a Cessna 172 and a fast car (for when I learn to drive).
What was your most embarrassing moment?
I'm lucky I haven't had one - yet!
What music do you like?
I have a varied taste including rap and swing
What sports person do you most admire?
Without a doubt, Tiger Woods, he is such an athlete and a great role model.
Describe your best ever holiday.
My best holiday was in Longboat Key, Florida and my dream holiday would be Antigua because the fishing looks good.
What is your greatest remaining ambition?
To be a commercial airline pilot.
If you could spend a day with a celebrity whom would you choose?
Tiger Woods
If you were stranded on a desert island what three things would you want with you?
My bed, a golf club and golf balls.
FAVOURITE THINGS.....
| | |
| --- | --- |
| Car - | Bugatti Veron |
| Film - | Flight of the Phoenix |
| Comedian - | Lee Evans |
| CD - | Jack Johnson "In Between Dreams" |
| Book - | I'm not a great reader but anything comical |
| Actor - | Denzel Washington |
| Actress - | Dawn French |
| Drink - | Lucozade |
Ulster Star
11/05/2007