Q&A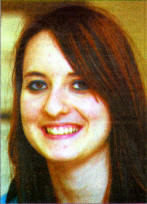 EMMA McAlister, 17, is a pupil at Rathmore Grammar School. She recently spent a week at the Star on work experience. She is a grade 7 drama student.
What do you like doing on your day off?
Shopping and having days out with friends is always fun or just going to each other's houses. I also like painting.
If you were to choose your favourite meal what would it be?
Chinese food. I like honey and chilli chicken from the Royal Panda in Finaghy.
What has been your proudest moment?
The look on my Dad's face when I got my GCSE results.
What was the most frightening moment of your life?
Being in hospital when I was ill and didn't know what was wrong.
How would you describe your taste in clothes?
Alternative but always matching. Stylish but funky. I generally buy bargains.
What would you do if you won a million pounds?
Go to London and visit Harrods. The money wouldn't last long.
What was your most embarrassing moment?
Falling backwards when wearing a skirt.
What music do you like?
Rock/pop - anything good. I'm really into bands like 'Blink 182', `Taking back Sunday' and `Funeral for a Friend'.
What sports person do you most admire?
Cristiano Ronaldo - he's fit in more ways than one.
Describe your best ever holiday. What would your dream holiday be?
School trips to France. Being anywhere exciting with my friends is brilliant.
What is your greatest ambition?
Getting into University. I would love to be a rich artist.
If you could spend a day with a celebrity whom would you choose?
John Lennon or Kurt Cobain.
If you were stranded on a desert island what three things would you want with you?
Underwear, a good looking man and eyeliner.
FAVOURITE THINGS.....
| | |
| --- | --- |
| Car | A red mini |
| Film | Labyrinth |
| Comedian | Dylan Moran |
| CD | `Mark. Tom and Travis Show' - Blink 182 |
| Book | Roxy's Baby - Catherine MacPhail |
| Actor | Johnny Depp |
| Actress | Lil Taylor |
| Drink | Oasis |
Ulster Star
/2007