Q&A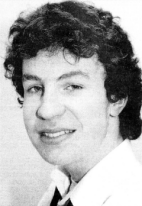 GERARD Walton, 17, from Lisburn is a student at Our Lady and St Patrick's College and recently spent a week's work experience at the Star to see if he would like to work as a journalist.
What do you like doing on your day off?
Listening to music and going out with friends.
If you were to choose your favourite meal what would it be?
Homemade lasagne, but anything my parents make is always good.
What has been your proudest moment?
Getting good results in my GCSE's - but I have a lot to achieve.
What was the most frightening moment of your life?
Abseiling when I was younger. I am terrified of heights.
How would you describe your taste in clothes?
I'm not bothered. I wear anything that fits me and doesn't look ridiculous.
What would you do if you won a million pounds?
I'd donate some of it to charity, save some and blow the rest.
What was your most embarrassing moment?
Probably during the abseil when I could move for ten minutes during the climb up.
What music do you like?
Indie, Punk and metal. Lots of stuff that gets ignored by the mainstream, sadly.
What sports person do you most admire?
Alan Shearer. He turned down a move to Man United in favour of Newcastle. Naturally I love him for that.
Describe your best ever holiday.
When I went to France as a youngster, the different culture fascinated me. My dream holiday would be a tour of America with all my best mates.
What is your greatest remaining ambition?
To be a Premiership sports writer / music writer.
If you could spend a day with a celebrity whom would you choose?
Sir Bobby Robson. We'd just talk about football.
If you were stranded on a desert island what three things would you want with you?
A battery powered stereo system, a football and some mates.
FAVOURITE THINGS.....
| | |
| --- | --- |
| Car | Ferrari |
| Film | Monty Python |
| Comedian | Dylan Moran |
| CD | The Shins - Chutes too narrow |
| Book | Harry Potter |
| Actor | Arnold Schwarzengger |
| Actress | Jennifer Aniston |
| Drink | Tea |
Ulster Star
02/03/2007