Q&A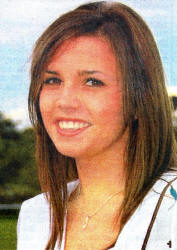 GRACE Teggart, 20, is the Crumlin Festival Queen for 2007. She works as a dental nurse and is also a trained beauty therapist.
What do you like doing on your day off?
I work a six day week so on Sundays I like to chill out after a hectic week. I might go to church, have dinner with friends or go shopping.
If you were to choose your favourite meal what would it be, where and why?
My mum's chicken faitjas are lovely. They taste nice and spicy and no restaurant I've been to can make them taste as good.
What has been your proudest moment?
Becoming festival Queen.
What was the most frightening moment of your life?
I get frightened easily. Once I was in the house on my own and I thought I saw someone walking up the stairs. I was on the phone at the time and dropped it and ran out of the house. I waited for my parents to come back before I would go back in. The strange thing was that when we went back inside the phone that I had dropped was back in its proper place.
How would you describe your taste in clothes?
I like modern clothes but nothing too in your face. I do like to have my own style.
What would you do if you won a million pounds?
I'd go on holiday and have a mad shopping spree. .
What was your most embarrassing moment?
It usually takes a lot to embarrass me.
What music do you like?
I like R'n'B and Beyonce and Avril Lavigne are my favourite music artists.
What sports person do you most admire?
David Beckham because he is hot.
Describe your best ever holiday. What would your dream holiday be?
For my 20th birthday my cousin and I went to Ibiza and had an amazing time. I would love to go to a private island that had the best beaches and clubs.
What is your greatest ambition?
To be happy and successful.
If you could spend a day with a celebrity whom would you choose?
Christina Aguilera because I admire her style and think she is a great singer.
If you were stranded on a desert island what three things would you want with you?
A phone, my family and clean fresh water.
FAVOURITE THINGS.....
| | |
| --- | --- |
| Car | Ferrari |
| Film | Calamity Jane |
| Comedian | Peter Kay |
| CD Avril Lavigne | The Best damn thing' |
| Book | A child called It |
| Actor | Seann William Scott |
| Actress | Julia Roberts |
| Drink | Water |
Ulster Star
24/08/2007