Q&A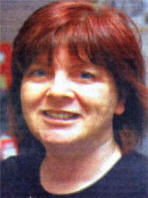 JACQUI Roberts, 45, owns 'Black Confetti' a rock music merchandise store located in Graham Gardens, and Lisburn's only Ticketmaster outlet. She is married to John and they have two sons.
What do you like doing on your day off?
I have one day off a week and I usually catch up on house-work. If I get the time I like to read, cook and do some gardening.
If you were to choose your favourite meal what would it be, where and why?
I love Italian food so it would be a meal in a restaurant in Italy,
What has been your proudest moment?
Opening Black Confetti.
What was the most frightening moment of your life?
When my son David was a young child I lost him in a shop - It was a terrible feeling no knowing where he was.
How would you describe your taste in clothes?
Very casual. I like wearing jeans and a t-shirt.
What would you do if you won a million pounds?
I would share it with my family, go on holiday and expand the business.
What was your most embarrassing moment?
There are so many I can't pick one. I have a habit of tripping over things. which is embarrassing.
What music do you like?
I like rock. classical, jazz and country. Leonard Cohen is my favourite singer.
What sports person do you most admire?
I am not big into sports but George Best comes to mind.
Describe your best ever holiday. What would your dream holiday be?
I had a great holiday with my husband in Italy. Everything about it was great - the weather, food and people. A trip around the world would be amazing.
What is your greatest remaining ambition?
Two open up two more shops at least.
If you could spend a day with a celebrity whom would you choose?
Without hesitating Leonard Cohen.
If you were stranded on a desert island what three things would you want with you?
Bottled water, ipod and a book.
FAVOURITE THINGS.....
| | |
| --- | --- |
| Car | Ferrari |
| Film | Mrs Miniver |
| Comedian | Harry Hill |
| CD | The Libertines 'Up the Bracket' |
| Book | Great Gatsby |
| Actor | Robert De Niro |
| Actress | Bette Davis |
| Drink | Red wine |
Ulster Star
13/07/2007