Q&A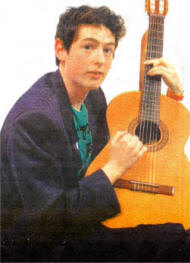 LISBURN singer-songwriter John D'Arcy, 18, will be playing at the launch night of Oxjam in Belfast this Saturday October 6 at the Spring and Airbrake in Belfast. John studies music technology at Queens University.
What do you like doing on your day off?
Sometimes I'll work on a new song, but if it's not working out I usually watch comedy shows or check what's happening on the internet.
If you were to choose your favourite meal what would it be, where and why?
Spaghetti bolognese in my living room, served by my dad. It's the best ever, but I don't think he's planning to release it to the public just yet.
What has been your proudest moment?
There was a fantastic article about me in Hotpress magazine which is the first national magazine I have appeared in. It was so well written it made me wonder how something so complimentary had been derived from the interview I had given.
What was the most frightening moment of your life?
I crashed into another car on the Saintfield road - it was one of those moments when time slows down and you have a million thoughts flying through your head, like "I'm going to lose my no claims bonus."
How would you describe your taste in clothes?
I like to think I'm quite stylish, but sometimes that opinion isn't shared by others. I like a good suit. Everyone should have a few good suits.
What would you do if you won a million pounds?
Be boring and invest it so that by the time I finish university I won't have to get a proper job for a while.
What was your most embarrassing moment?
The most gut-wretching embarrassment usually hits me straight after I have said something utterly pointless and not amusing on stage. It's mostly when I tell jokes that no one understands.
What music do you like?
I'm quite open to different genres of music but I have certain songs and artists that I really love, and others that I can't stand. Sometimes it depends on the situation I'm hearing them - I think we've all danced and had a great time to songs that we usually hate when we hear them on the radio. My favourite bands at the moment are The Pixies, Weezer and The Kings of Leon.
What sports person do you most admire?
I'm not a sports fan but I admire anyone who is determined to keep fit because I certainly am not. Describe your best ever holiday.
What would your dream holiday be?
My best holiday ever was when I went to Disney Land as a child - everyone should go at least once. My dream holiday would be a long break in New York or Barcelona, with company I love.
What is your greatest ambition?
To release a record that is received well by people who like good music.
If you could spend a day with a celebrity whom would you choose?
David Bowie
If you were stranded on a desert island what three things would you want with you?
Pen. Paper and a friend
FAVOURITE THINGS.....
| | |
| --- | --- |
| Car | My Smartcar. |
| Film | That Thing You Do. |
| Comedian | Tommy Tiernan / Dylan Moran |
| CD | Weezer - Blue Album |
| Book | John Carey's 'What Good Are The Arts?' |
| Actor | Kevin Spacey |
| Actress | Winona Ryder |
| Drink | The Orange 'Innocent' Smoothie |
Ulster Star
05/10/2007