Q&A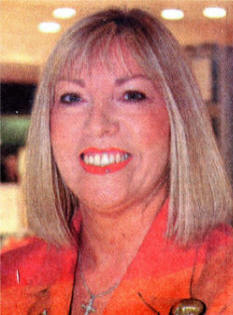 LORRAINE Hayes is a Clarins Beauty Consultant at Menarys in Bow Street Mall. She recently won Menary's Best Beauty Counter Consultant award.
What do you like doing on your day off?
If the weather is good I like to potter about the garden and relax.
If you were to choose your favourite meal what would it be?
A traditional Sunday beef dinner cooked by my husband Tommy.
What has been your proudest moment?
Watching my daughter walking down the aisle when she was getting married.
What was the most frightening moment of your life?
When I lost both of my parents within a short period of time.
How would you describe your taste in clothes?
I like to dress smart/casual. In the summer I love wearing bright colours.
What would you do if you won a million pounds?
I'd give it to a hospice in Kenya which treats children with HIV and other illnesses. I have been over to the hospice twice. I am a member of the Metropolitan Tabernacle and I really wish I could do missionary work all the time.
What was your most embarrassing moment?
When my hold-ups started to fall down as I was walking and I had to take them off in a side street.
What music do you like?
I like a variety of music and artists including Ray Boltz, Christian singer/songwriter Chris Tomlin, Bryan Ferry and Roxy Music.
Describe your best ever holiday.
Last year I celebrated my 25th wedding anniversary by going to Egypt with my husband. It was somewhere I have always wanted to go and I had a ball. All the sights were amazing.
What is your greatest remaining ambition?
To go out to Kenya again and help out at the hospice.
If you could spend a day with a celebrity whom would you choose?
I wouldn't choose a celebrity but instead a missionary worker called Terry Fairfowl who set up the hospice I have already mentioned in Kenya with the help of the Church. She is in a wheelchair and is an amazing person.
If you were stranded on a desert island what three things would you want with you?
Clarins' super restorative moisturiser, showergel and chocolate.
FAVOURITE THINGS.....
| | |
| --- | --- |
| Car | Jaguar |
| Film | Out of Africa |
| Comedian | Ricky Tomlinson |
| CD | The theme music from Out of Africa |
| Book | Joyce Meyer's `How to hear from God' |
| Actor | Johnny Depp |
| Actress | Meryl Streep |
| Drink | Fruit juice |
Ulster Star
20/042007