Q&A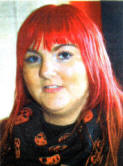 LOUISE Stevenson, 25, is one of the business partners of new hairdressing company `Hair in the City', based on Longstone Street, which she runs with her sister-in-law Elaine Stevenson. She is married to Clive and they have a two-year-old son. Ethan.
What do you like doing on your day off?
I like to go shopping and meet my mum for lunch. My free time is usually spent with my family.
If you were to choose your favourite meal what would it be, where and why?
I had my first proper date with my husband at Belfast Castle and the food was gorgeous.
What has been your proudest moment?
Getting married and having my son.
What was the most frightening moment of your life?
Giving birth and when my mum was ill.
How would you describe your taste in clothes? What's the most you ever spent on a single item?
I like to keep up-to-date and dress fashionably. The most expensive garment I've bought was my wedding dress.
What would you do if you won a million pounds?
I would take my family away on an exotic holiday and buy a nice big house here and one in Fuerteventura,
What was your most embarrassing moment?
Oh there are so many. One night I went to a gay bar with friends and I told the transvestites that they had lovely legs. I was embarrassed when I remembered the next day what I had been doing.
What music do you like?
I like everything from Frank Sinatra to dance to the latest chart music.
What sports person do you most admire?
The cyclist Lance Armstrong.
Describe your best ever holiday. What would your dream holiday be?
I went to Fuerteventura with my husband before our son was born and we had such a great time. I would love to go with my family to Orlando.
What is your greatest remaining ambition?
To make the business a success and open a chain of salons.
If you could spend a day with a celebrity whom would you choose?
Victoria Beckham - I really respect her.
If you were stranded on a desert island what three things would you want with you ?
My husband, son and dog Jessie.
FAVOURITE THINGS.....
| | |
| --- | --- |
| Car | Lotus Elise |
| Film | Wayne's World |
| Comedian | Billy Connolly |
| CD | Disney's greatest hits soundtrack |
| Book | Romeo and Juliet |
| Actor | Mike Myers |
| Actress | Jennifer Aniston |
| Drink | Diet Coke |
Ulster Star
22/06/2007