Q&A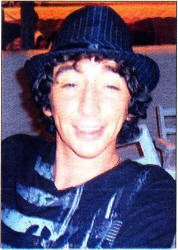 MARK Cowan, 24, from Lisburn is a music producer and DJ and is currently setting up a record label with a fellow musician. He recently gave up an accountancy degree to pursue a career in music. Mark is the current Northern Ireland Movida Corona Mixing Champion and is heading to Rome to represent Northern Ireland in the world finals at the end of November.
What do you like doing on your day off?
When I'm off work I generally find myself sitting in my studio making music for hours on end or mixing on my decks - it's usually one or the other. If I'm not doing either of those I'm lying in bed devising a masterplan in which I plot to take over the Dance Music Scene with a mob of angry monkeys.
If you were to choose your favourite meal what would it be, where and why?
It's definitely between Spaghetti Bolognese or Chicken and Pasta in a tomato sauce. If I was to eat either of them in my favourite place it would have to be on a forty foot yacht in the middle of the Pacific with my girlfriend at sunset.
What has been your proudest moment?
The day I became a dad at the tender age of 19.
What was the most frightening moment of your life?
Again the day I became a dad at the tender age of 19.
How would you describe your taste in clothes?
I shop for clothes mainly in Cult in Belfast. Anything individual.
What would you do if you won a million pounds?
I would buy a forty foot yacht, sail to the middle of the Pacific Ocean and have that meal I mentioned.
What was your most embarrassing moment?
My most embarrassing moment was when I was about 10 when I was doing a parade with the Boys Brigade. I was walking down the road marching like a trooper, when I saw all my family and friends at the other side of the road, so I turned to wave at them and forgot to look where I was going and I walked clean into a lamppost. Nightmare - I can't remember much after that.
What music do you like?
I love house music. I also like a bit of Rock. The Chilli Peppers especially, Bob Marley, some RnB as well, hip hop, I love scratching to Hip Hop on my decks, it's addictive. Breaks and Electro, and for all the Shine lovers reading this and obviously techno.
What sports person do you most admire?
Amir Kahn.
Describe your best ever holiday. What would your dream holiday be?
My best ever holiday has to be Ibiza 2007. I went for a week with my girlfriend Claire. My dream holiday would be a two week cruise in the Caribbean, two weeks in Dubai followed by another few weeks in New York or Las Vegas.
What is your greatest remaining ambition?
Without a shadow of a doubt it is to become an International DJ and Producer, to have a successful record label, to have scripted music for films, TV shows and computer games.
If you were stranded on a desert island what three things would you want with you?
My laptop, my girlfriend and an inflatable city.
FAVOURITE THINGS.....
| | |
| --- | --- |
| Car | Ferrari Spider |
| Film | Shawshank Redemption |
| Comedian | Sean Lock |
| CD | Fatboy Slim 'Why try harder' |
| Book | Lord of the Rings |
| Actor | Johnny Depp |
| Actress | Eva Longoria |
Ulster Star
26/10/2007