Q&A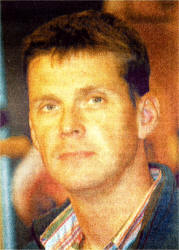 ROGER Warnock, 37, owns adventure retail store RAW Outdoors in Hillsborough. He is married to Emily and they have two children Jack and Rebecca. Roger is the chairman of the the first RAW Outdoors Adventure Festival incorporating the Banff Film Festival World Tour, which takes place in Hillsborough, from Wednesday October 3 until Saturday October 6.
What do you like doing on your day off?
I like to spend time with my children and regularly go walking with them. I also enjoy mountaineering in my spare time.
If you were to choose your favourite meal what would it be, where and why?
The steak at Deanes at Queens is great. The restaurant has a relaxed atmosphere and is very chilled out.
What has been your proudest moment?
The birth of my children.
What was the most frightening moment of your life?
When I was coming off Mount Blanc I put my foot through a crevice which was quite frightening as there was an avalanche risk.
How would you describe your taste in clothes?
I am a jeans and T-shirt person and this works well with having the outdoors store.
What would you do if you won a million pounds?
I would buy a chalet in Switzerland.
What was your most embarrassing moment?
When I was at university I was playing rugby and hurt my leg. A friend who was a medical student at the time told me my leg was broken but when the ambulance came I was able to get up and walk without any bother. It was very embarrassing.
What music do you like?
I like rock music and Aerosmith in particular.
What sports person do you most admire?
Sir Ranulph Fiennes. He will be at opening of the RAW Outdoors Adventure Festival.
Describe your best ever holiday. What would your dream holiday be?
I love going to Switzerland with family and walking over the glaciers. I would like to do a Himalayan Trek.
If you could spend a day with a celebrity whom would you choose?
Brian O'Driscoll. I love rugby and always wanted to play professionally.
If you were stranded on a desert island what three things would you want with you?
My wife Emily. and our two children.
FAVOURITE THINGS.....
| | |
| --- | --- |
| Car | Landrover Descender |
| Film | The Shawshank Redemption |
| Comedian | Billy Connolly |
| CD | Aerosmith The Greatest Hits |
| Book | Stephen King's The Stand |
| Actor | Robert De Niro |
| Actress | Jodie Foster |
| Drink | Guinness |
Ulster Star
28/09/2007