Q&A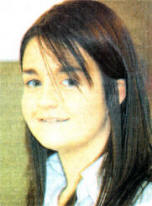 SARAH Maxwell, 15. from Lisburn is a fifth year student at Fort Hill College and spent a week at the Star office finding out what life as a journalist is like.
What do you like doing on your day off?
I like going shopping with my friends in town as well as going to the cinema or watching an ice hockey match.
If you were to choose your favourite meal what would it be. where and why?
My favourite meal would be chicken curry from the Welcome Inn on Longstone Street.
What has been your proudest moment?
My proudest moment was when I first learned to swim.
What was the most frightening moment of your life?
The most frightening moment of my life was when I was eight. My mum and I went on a ride in Wallace Park and as the ride started I began to slip below the bar. All I could do was scream for my mum to help as she clung onto me. I was terrified.
How would you describe your taste in clothes?
Casual and colourful
What would you do if you won a million pounds?
I'd spend a lot of it on clothes and on a flashy expensive car for when I learn to drive. I would also buy my mum and dad a house in France and go on a massive holiday.
What was your most embarrassing moment?
When I fell down the stairs in school as everyone was watching.
What music do you like?
I'm into all types of music but at the moment the two I like most are indie and dance
What sports person do you most admire?
I must admit I am not really a big sports fan but I would say George Awada from the Belfast Giants ice hockey team as I recently went for the first time to see them play and I've become a fan.
Describe your best ever holiday. What would your dream holiday be?
A trip to France in 2004. I love the language. My dream holiday would be a trip to somewhere warm and exotic like Hawaii
What is your greatest remaining ambition?
To do well in my GCSEs and A Levels as well as graduate from university
If you could spend a day with a celebrity whom would you choose?
Rhianna as I think she's a great singer
If you were stranded on a desert island what three things would you want with you?
A friend, my family and food
FAVOURITE THINGS.....
| | |
| --- | --- |
| Car | Noble M12 |
| Film | Dirty Dancing |
| Comedian | Peter Kay |
| CD | Eyes Open by Snow Patrol |
| Book | Harry Potter and the Deathly Hallows |
| Actor | Orlando Bloom |
| Actress | Eva Longoria |
| Drink | Cherry Juice |
Ulster Star
21/09/2007