Q&A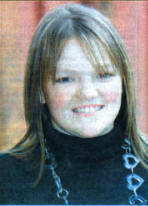 SHANNON Savage, 16, is a student from Laurelhill Community College. As she is studying for a GCSE in journalism she recently spent a week at the Star.
What do you like to do on your day off?
On my days off I usually go shopping with my mum or friends.
If you were to choose your favourite meal what would , where and why?
If I had to choose it would definitely be Ed's Diner. I love the grilled chicken wraps - they are fantastic.
What has been your proudest moment?
My proudest moment is completing my Silver Duke of Edinburgh Award.
What was the most frightening moment of your life?
The most frightening moment in my life was when I had to have my appendix removed.
How would you describe your taste of clothes?
My clothes are casual and comfortable.
What would you do if you won one million pounds?
I would put a lot of it away for my college funds for the future and give some to my mum to spend. I would also take my friends out on a shopping spree.
What was your most embarrassing moment?
My most embarrassing moment was when I fell down the stairs in school on my way to English class. I will never forget it.
What music do you like?
I love a lot of different styles of music - slow, fast, rave, hip hop, classic and punk.
What sports person do you most admire?
I don't have a favourite sports person but I would say that I look up to my dance teacher Rebecca Leonard.
Describe your best ever holiday. What would your dream holiday be?
My best holiday was this year when I went with my family to Italy - it truly was brilliant. My dream holiday would be going to New York with my friends or family I would love to see and explore New York.
What is your greatest remaining ambition?
My remaining ambition would be to become a well known Journalist.
If you spent a day with a celebrity whom would you choose?
If I had the day to spend with any celebrity it would be David Beckham.
If you were stranded on a desert Island what three things would you want with you?
Mobile phone, my friends and family and my bed.
FAVOURITE THINGS.....
| | |
| --- | --- |
| Car | Mini Copper |
| Film | Sister Act 1 and 2 |
| Comedian | Peter Kay |
| Book | Diamond Girls by J Wilson |
| Actor | Tom Cruise |
| Actress | Julia Roberts |
| Drink | Coke |
Ulster Star
23/11/2007