Q&A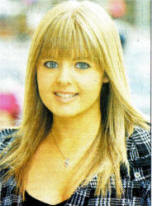 Suzie Walker, 16, from Hillsborough, is interested in pursuing a career in journalism. She is a pupil at Hunterhouse College and works part-time in Tempest.
What do you like doing on your day off?
I like to lie in, then go shopping with my friends or see my boyfriend Simon.
If you were to choose your favourite meal what would it be, where and why?
Chicken Caeser salad from Tony Romas - it's the nicest ever
What has been your proudest moment?
Winning a singing competition I entered at Belfast Music Festival.
What was the most frightening moment of your life?
When I went on the 'freak out' ride in Funderland and it went upside down - I was petrified.
How would you describe your taste in clothes?
Fashionable, casual during the day but I love getting dressed up for nights out.
What would you do if you won a million pounds?
I would go on a massive shopping spree, give some to my family and to charity.
What was your most embarrassing moment?
When I was on holiday in America, I fell on my back on an ice rink and I had to get carried off by my dad.
What music do you like?
Pop, dance music and a bit of everything really.
What sports person do you most admire?
David Healy.
Describe your best ever holiday. What would your dream holiday be?
My best holiday was when I went to Spain last year. My dream holiday would be to go to New York and shop until I drop.
What is your greatest ambition?
To pass my A-Levels and then go on to university
If you could spend a day with a celebrity whom would you choose?
Tyra Banks the supermodel.
If you were stranded on a desert island what three things would you want with you?
Sunglasses. Mobile phone and chewing gum.
FAVOURITE THINGS.....
| | |
| --- | --- |
| Car: | Black soft-top beetle |
| Film: | The last kiss |
| Comedian: | Vernon Kay |
| CD: | Gatecrashers |
| Book: | Dear Nobody |
| Actor: | Matt Damon |
| Actress: | Jennifer Aniston |
| Drink: | Coke Zero |
Ulster Star
07/12/2007