Q&A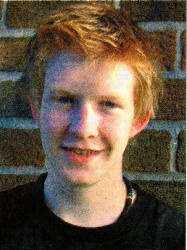 WILLIAM Taylor, 17, is a member of Hillhall Young Farmers Club. The Wallace High Student is also a volunteer with local radio station BFBS.
What do you like doing on your day off? Get up early, have a big breakfast and then read a book or go out somewhere.
If you were to choose your favourite meal what would it be?
Ribs or a steak at Tony Romas in Belfast.
What has been your proudest moment?
Opening my GCSE results envelope and seeing how I had done.
What was the most frightening moment of your life?
I've never really had something that has properly frightened me
How would you describe your taste in clothes?
Casual. I think the most I spent was when I bought my leather jacket
What would you do if you won a million pounds?
Buy a castle and a Rolls Royce Phantom
What was your most embarrassing moment?
When I was six I played the inn keeper in a nativity play, but wore an apron covered in farmyard animals. I looked a bit silly, but just had to go on with the show.
What music do you like?
Lots, everything from classical to heavy metal
What sports person do you most admire?
Rugby player Jonah Lomu.
Describe your best ever holiday.
When I went to Sardinia, great weather and great food. My dream holiday would be to Tokyo
What is your greatest remaining ambition?
To be an astronaut. There's time yet.
If you could spend a day with a celebrity whom would you choose?
Thomas Lang, a fantastic drummer.
If you were stranded on a desert island what three things would you want with you?
Drum kit, a leatherman and a good book
FAVOURITE THINGS.....
| | |
| --- | --- |
| Car - | Original Ford GT40 |
| Film - | Anything by Quentin Tarantino |
| Comedian - | Al Murray |
| CD - | Angra, Live in Sao Paulo |
| Book - | Day of the Jackal by Frederick Forsyth |
| Actor - | Samuel L. Jackson |
| Actress - | Jennifer Aniston |
| Drink - | Tea |
Ulster Star
25/05/2007