Clinton Kirkpatrick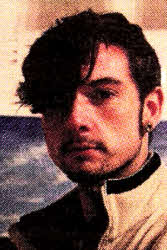 Clinton Kirkpatrick, 26, is a local painter/artist who recently moved home after six years living away. Travelling is a passion of his and he likes to do as often as possible. He loves art, colour and is fascinated by life.
What do you like doing on your day off?
I don't really know what a day off is. I love to be busy creating in my studio, whether for a new exhibition or just working through ideas, when I have my own time in amidst the other work that I do. That and catching up with friends. I have regular coffees and cake.
If you were to choose your favourite meal what would it be, where and why?
Give me a fish supper, plonk me beside the sea, tell me a yarn and give me a laugh. That would do it.
What has been your proudest moment?
I have loads. Each little milestone is a proud moment to me. The latest would have to be being offered a solo exhibition in the Ulster Hall in Belfast.
What was the most frightening moment of your life?
Well I was drunk with my friend in Australia and we had thought we lost the keys to the van as we were half way down the east coast. That was scary. We found them though. So was only scared for a short while. Then it was funny.
How would you describe your taste in clothes?
Give me colour. I love colour. So there is normally a 'burst' in there somewhere. At the moment I am loving my orange shoes.
What would you do if you won a million pounds?
I would buy an old building and transform the space into a huge studio to paint in. That means I could have the space to work on large pieces again. I would put money into arts within a community.
What was your most embarrassing moment?
I am sorry. I would love to tell you for a laugh like but no. Use your imagination. It involves the North Sea and seaweed.
What music do you like?
I have quite an eclectic taste in music. There is not much I do not like. But at the moment I am loving Kylie Minogue, Adam Lambert and Bruno Mars.
What sports person do you most admire?
Grace McCarroll.
Describe your best ever holiday. What would your dream holiday be?
My best holiday was last December and January when I went to Australia and did a road trip the length of one side of the country. What a hoot. A dream holiday would be to get a car and go driving. There are places on every continent that needs some Clinton exploring. I would visit obscure and interesting places in amidst the major cities.

What is your greatest remaining ambition?
It is no secret that I want to complete my Masters degree in Painting at the Royal College of Art in London. This is what I am striving towards. I can't get the idea of it out of my head.
If you could spend a day with a celebrity whom would you choose?
Kylie Minogue, of course.
If you were stranded on a desert island what three things would you want with you?
I would bring a load of friends, a camera and my dog if I had one.
Favourite things
Car: Volkswagen Beetle. The old one! I
Film: 'Serendipity'.
Comedian: My friend Christine Costello.
CD: Anything Kylie related.
Book: 'Paula Rego. Behind the Scenes.'
Actor: John Cusack
Actress: Kate Winslet
Drink: Vodka lemon and lime bitters.
Ulster Star
03/11/2010