Helen Smyth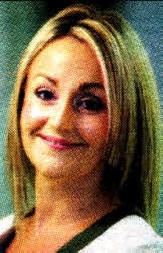 HELEN Smyth, 30, is a beauty therapist at Janette Kidd Beauty and Day Spa. Most recently she completed the Oonagh Boman Advanced fashion and photographic make-up course.
What do you like doing on your day off?
I like going to the gym, socialising and eating out. I'm normally very busy during the week so my days off are precious.
If you were to choose your favourite meal what would it be, where and why?
A fillet steak at the Merchant Hotel followed by a cocktail. The service is second to none. This is unfortunately for special occasions only. Daft Eddies in Killinchy is a good second choice.
What has been your proudest moment?
Completing a 10k run for Comic Relief.
What was the most frightening moment of your life?
Last year when my boyfriend and I were in Australia we went on a day trip to White Haven Beach in the Whitsunday Islands. When we were getting back on the boat there was a stingray in shallow waters. I don't think I was the only one that was frightened.
How would you describe your taste in clothes?
Unfortunately my taste in clothes is expensive but that's not to say I don't like a bargain. I'm loving the diversity of styles at the moment whether it is dressed up with killer heels or leggings with pumps. You can't beat a little black dress though.
What would you do if you won a million pounds?
Go on an extremely long holiday to start. I guess I'd have to buy a house and give my parents a great holiday and a lump sum to my sister. We can all dream.
What was your most embarrassing moment?
I was trying on clothes in a shop and I walked out with them under my arm . It was only when I was in the shop next door that I realised what I'd done. I went straight back in and only then did the alarm go off. I was so embarrassed.
What music do you like?
I have a fairly wide taste in music and really depends on what mood I'm in. From Snow Patrol to Pink and Lady Gaga but I have to say I do love a bit of 70's disco.
What sports person do you most admire?
Mary Peters. For the endless work she puts in to improving amenities and opportunities for young people in Northern Ireland. I had the opportunity to meet her recently and I was struck by her warmth and friendliness.
Describe your best ever holiday- What would your dream holiday be?
My best holiday is undoubtedly the trip to Australia last year. It was fabulous - the people were friendly and accommodation brilliant. The weather was great too. My dream holiday would be a return trip to Australia. what we saw was only the tip of the iceberg sand there os so many other things we want to see and do.
What is your greatest remaining ambition?
To run a full marathon.
If you were stranded on a desert island what three things would you want with you?
My boyfriend, mascara and an everlasting battery life Ipod.
Favourite things
Car Golf GT1
Film Bridget Jones
Comedian Peter Kay
CD Snow Patrol Chasing Cars
Book Ps I love you
Actor Morgan Freeman
Actress Meryl Streep Drink Rose wine
Ulster Star
01/10/2010