JODY DEVLIN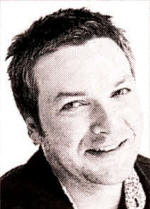 JODY Devlin, 37 from Derriaghy, has been one of a select few hairdressers welcomed into the Fellowship for British Hairdressing. Jody owns Rogue Hair Ltd in Bradbury Place, Belfast with his wife Karen and business partner Darren Albrighton, the salon has been established for seven years and the team are known as some of the most forward thinking hairdressers in the industry.
What do you like doing on your day off?
I like to head up to Lough Erne with my wife Karen and our four boys to spend some time on our boat.
If you were to choose your favourite meat what would it be, where and why?
I'm a big lover of red meat but getting older I know I can't indulge as much as I'd like to so it would have to be a beautiful piece of fillet cooked very rare with the trimmings.
What has been your proudest moment?
Professionally, winning the L'Oreal Colour Trophy in 2009 was unbelievable and in 2010 being nominated into the Fellowship of British Hairdressers, this has been amazing and means I am part of the creative force behind the hairdressing industry in the UK. Personally, it would have to be my wedding day and the birth of my children.
What was the most frightening moment of your life?
I was a keen surfer before my life got so hectic and I was away on a surf trip. We didn't know much about the local surf conditions which was foolish before entering the water. When the tide turned we all got caught out and the current took us out but the waves were also holding me down. It took about a half hour to get back onto the beach and I had been held under the water quite a few times.
How would you describe your taste in clothes?
When I'm doing hair shows or teaching I have to look professional and of course fashionable. But when I'm not I love my jeans.
What would you do if you won a million pounds?
I would pay off my mortgages and then blow the rest on some serious fun with family and friends.

What was your most embarrassing moment?
I was on stage showing a new collection of hair cuts and was explaining how important the right product choice was for different types of hair. While doing this I sprayed the hairspray right into my eye.
Describe your best ever holiday. What would your dream holiday be?
The best trip I've been on would have to be in Mexico. Karen, myself and about 20 friends headed off for our wedding and stayed 5star plus in an all Inclusive hotel which was amazing. Being with all your friends and being treated like a king scores highly on my top holidays.
If you were stranded on a desert island what three things would you want with you?
A surf board, an IPod and a bottle or two of Jack Daniels.
Favourite things
Car: Porsche Turbo
Film: I enjoy most movies from Disney to full on gore.
Comedian: Jack Dee
CD: Massive Attack - Protection
Book: An Angels Walk
Actor: Steve McQueen
Actress: Sienna Miller
Drink: lack Daniels - on the rocks
Ulster Star
12/11/2010