NATALIE ORR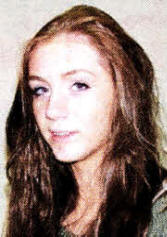 NATALIE Orr,16,from Lisburn is a lower sixth student at Hunterhouse College, studying English, History, Sociology and Biology. She loves music and plays the piano in her spare time.
What do you like doing on your day off?
I like to meet up with my friends and go shopping or else watch TV, especially old repeats of Gossip Girl or Friends.
If you were to choose your favourite meal what would it be, where and why?
I love anything like Pizza or chips. I always just order in whenever my parents are out instead of cooking myself.
What has been your proudest moment?
Probably whenever I got my GCSE results.
What was the most frightening moment of your life?
Without a doubt my visit to the London Dungeon, it is the most terrifying place I have ever visited. I was nearly in tears walking out.
How would you describe your taste in clothes?
Quite casual, I'm happy wearing jeans and a shirt.
What would you do if you won a million pounds?
Go on a long, relaxing holiday to somewhere like Spain or Italy. I'd bring all my Friends and try and get a tan.
What was your most embarrassing moment?
It would have to be forgetting my passport at a school trip. We were going to see the Birmingham fashion show, and I had looked forward to it all month. I got to the airport and realised I had left my passport at home. My mum had to drive up with it and I almost missed the plane. Everyone found it hilarious, except me.
What music do you like?
I love most music, but my favourite would probably be bands such as Oasis, Kings of Leon and Coldplay. But I like some RnB music too like Usher and Rihanna.
What sports person do you most admire?
Rafa Nadal, the world's number one tennis player at the moment.
Describe your best ever holiday. What would your dream holiday be?
I would love to visit America, to shop in New York and to go to the theme parks in Florida, with my closest friends.
What is your greatest remaining ambition?
I would love to go to a West End Show in London. I went once when I was much younger but I can't really remember it. I think it would be fantastic.

If you could spend a day with a celebrity whom would you choose?
Miley Cyrus. Since she is a similar age to me it would be interesting to see how different her life is being an international superstar compared to a normal person.
If you were stranded on a desert island what three things would you want with you?
My mobile phone, a knife for survival and any type of food I could get my hands on.
Favourite things
Car: BMW convertible
Film: The Hangover
Comedian: Russell Brand.
CD: Oasis - What's the Story Morning Glory or Snow Patrol - Open Your Eyes.
Book: All the Harry Potter books.
Actor: Johnny Depp.
Actress: Cameron Diaz.
Ulster Star
10/12/2010