Ashley Smith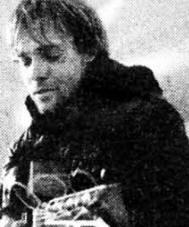 ASHLEY Smith, 24, is a member of Lisburn's promising new unsigned band 'Whanau' who recently released their debut EP. He loves playing guitar, singing and writing new songs.
What do you like doing on your day off?
Probably just chill at home, play guitar and maybe try to write something new. Either that or go round to one of my friends' places and hang out.
If you were to choose your favourite meal what would it be, where and why?
I reckon you can't beat a good old chicken curry. As spicy as you can please, with extra curry sauce. The Man Lee in Ballymacash is normally pretty good.
What has been your proudest moment?
Holding one of the new Whanau albums for the very first time. So much hard work went into it and to finally stand and hold the finished piece was something else. The album launch night was also one of my proudest moments, a lot more people showed up than we'd expected, everything ran smoothly and a great night was had by all.
What was the most frightening moment of your life?
It's pretty frightening every time I get on stage, but normally after the first few songs I seem to relax and let loose a bit.
How would you describe your taste in clothes?
Well, normally pretty plain, although if I was on a beach somewhere, I'd be surfing it up. I suppose I'm a sucker for leather jackets and jeans most of the time.
What would you do lf you won a million pounds?
You mean what wouldn't I do? For a start, I'd have my own recording studio on a beach in the Bay Of Plenty in New Zealand and I'd move all my friends and family out with me. Beach parties every day.
What was your most embarrassing moment?
A while ago, Whanau were playing a gig in Auntie Annie's in Belfast and - me being me - I was too busy talking and forgot to plug my guitar in when I got on stage. We all started to play the first song and I was wondering why there wasn't any sound coming from my guitar. Really professional of me? Although I just continued to blame the sound guy.
What music do you like?
I listen to a very wide range of music and there'd be way too many to list here. Although I will say that Pink Floyd are probably my favourite band ever. I also really love the vocal tones of Kelly Jones (Stereophonics) and Eddie Vedder (Pearl Jam).
What sports person do you most admire?
Well being a Newcastle Utd fan ever since I was a kid I'd have to go with the obvious and say Alan "the legend" Shearer.
Describe your best ever holiday. What would your dream holiday be?
Returning back to New Zealand. Even if just for a few weeks, I loved it there and made so many great friends. It would be awesome to see everyone again - there's only so much Facebook can do.
What is your greatest remaining ambition?
Probably the greatest remaining ambition of any local artist. To sell millions of CDs worldwide of course. What else?
If you could spend a day with a celebrity whom would you choose?
Does the celebrity have to be living today? I'd have loved to have met Bob Marley, the guy had such an amazing view of how life should be and of how people should be and act toward each other.
If you were stranded on a desert island what three things would you want with you?
My guitar for sure. My fishing rod and maybe a speed boat so I can do a runner when I get bored.
Favourite things
Car: Anything convertible
Film: The Lord of the Rings Trilogy Comedian: Billy Connolly
CD: Pink Floyd - Dark Side Of The Moon Book: The Hobbit
Actor: Charlie Sheen
Actress: Holly Valance
Drink: Wine
Ulster Star
14/10/2011