Jessica Webb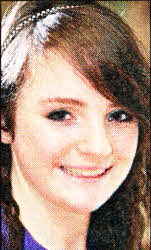 Jessica Webb, 15, is a member of Fusion Theatre which puts on its production of Disney's 'Beauty and the Beast' in the Island Hall in Lisburn on February 16, running through to Saturday February 19. Jessica enjoys singing, acting and dancing and plays the guitar and piano.

What do you like doing on your day off?
Watching TV - the answer every time. I also tend to sing (very loudly) around the house. I would also go into town, when I can persuade my mum and dad to give me a lift.
If you were to choose your favourite meal what would it be, where and why?
I would combine my favourite foods. I love salsa, iceberg lettuce, peppers and a good fry. So if someone could make me a salsa salad with peppers and a fry on the side I would be quite content.
What has been your proudest moment?
Appearing with Fusion on Channel 5's 'Don't Stop believing', I thoroughly enjoyed it.
What was the most frightening moment of your life?
I got lost during a marathon, about four years ago. A terrifying moment, might I add.
How would you describe your taste in clothes?
I put on whatever I like that day, I don't have a specific style.
What would you do if you won a million pounds?
I would obviously give money to those in poverty. I would give some to my family, spend some of my winnings and save whatever I had left.
What was your most embarrassing moment?
A younger child walked into the toilets on me, I was mortified.
What music do you like?
I don't have a specific type, I have favourite songs, but they're all different, I can say, I hate clubland, hate.
What sports person do you most admire?
Martin O'Neill I have always admired him. I love how he stopped being a manager while his wife was sick, instead he cared for her.
Describe your best ever holiday. What would your dream holiday be?
I loved the year that I went to Paris. We explored Paris, visiting the Eiffel Tower, Versailles, and many more. We went to Disneyland which was amazing. Then after we finished in Paris, we flew to London and visited my aunty and cousins. My dream holiday would be to go to America. I suppose I am getting that opportunity this year, as I have been chosen to go on the Ulster Project.
What is your greatest remaining ambition?
To perform on a London stage. It would be an amazing experience.
If you could spend a day with a celebrity whom would you choose?
Selena Gomez, she is my idol. I think she's a very talented actress, and a genuinely nice person.
If you were stranded on a desert island what three things would you want with you?
My best friends, food (a lot of it) and a lighter or matches - I'm not too gifted at fire making.
Favourite things
Car - a Smart car
Film - Shrek and/or Sherlock Holmes
Comedian- Michael mcintyre
Book- Noughts and crosses saga.
Actor - Robert Downey Jr
Actress - Selena Gomez
Drink - Sprite with ice
Ulster Star
04/02/2011