Stuart Morrison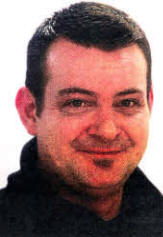 STUART Morrison, 37, is a joiner, working in Voluntary Service Lisburn (VSL) where he has been since November 2010. Whilst working he is completing his training in joinery and wood work. Stuart worked as a nurse before pursuing a joinery career.
What do you like doing on your day off?
Walking along the coast, reading and travelling to different places as often as possible.
If you were to choose your favourite meal what would it be, where and why?
Spaghetti Bolognese at my mum's house, because it is the best.
What has been your proudest moment?
The birth of my son.
What was the most frightening moment of your life?
I was drowning in Thailand whilst surfing and was luckily spotted and revived.
How would you describe your taste in clothes?
Plain, practical, smart/casual.
What would you do if you won a million pounds?
Build an eco-friendly house.
What was your most embarrassing moment?
While I was working as a nurse a patient fell, grabbing and pulling down my trousers. Exposing me to a very busy ward.
What music do you like?
Rock, Blues, Indie, Soul, 70's and 80's.
What sports person do you most admire?
Lewis Hamilton.
Describe your best ever holiday. What would your dream holiday be?
Best ever - tour of Northern Italy and the Greek Islands. Dream holiday - Tour of South America or the Orient express.
What is your greatest remaining ambition?
To build a house, marry and settle down.
If you could spend a day with a celebrity whom would you choose?
Bill Murray.
If you were stranded on a desert island what three things would you want with you?
Knife, hat and dynamo.
Favourite things
Car: Aston Martin DB9 / Audi S8
Film: Kingdom of Heaven
Comedian: Bill Bailey
CD: Mezzanine by Massive Attack
Book: A brief history of almost everything
Actor: Tom Hanks
Actress: Hilary Swank Drink: Coffee

Ulster Star
21/01/2010