ANNAHILT WOMAN'S REMARKABLE STORY TO BE TOLD ON TV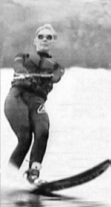 The blind ambition that's driving Janet Back to the top
THE remarkable story of a local woman's recovery from near death while at the height of world sporting success is to feature on TV next week.
In the BBC 1 documentary Jackie Fullerton presents the inspirational story of Annahilt woman Dr Janet Gray MBE.
Blind Ambition, on Monday September 26 at 10:35pm, follows Janet blind triple Water-Ski World Champion as she recovers from a near fatal training accident last year in Florida.
Jan stopped breathing three times and it took 37 screws and 8 metal plates to rebuild her face but now she is determined to defy the odds to regain her fitness and her Crown.
With exclusive personal access, the programme charts Janet's rehabilitation and road to recovery as she bids to return to the sport she loves and hears from her husband Paul and her family.
Janet speaks movingly about her early life and the trauma of losing her sight to a rare form of glaucoma when she was 21, which also blinded her father and brother.
Janet started water skiing in 1995 and her meteoric progress in the sport saw her claiming her first world title just four years later before coming back with four golds from Melbourne two years after that.
But the accident during winter training last year in Florida threatened more than her outstanding career.
The programme traces the triumphs, trials and tribulations along the way joining Janet at home, at physiotherapy, in surgery, in training and in her many public roles.
It follows her progress through early faltering steps to major strides before hitting the inevitable wall as endless surgery and recurrent trauma threaten to daunt her flagging spirits.
Blind Ambition follows Janet on her `return to water', with footage of the world champion demonstrating her remarkable talent in training and competitive action.
It also accompanies Janet and husband Paul on an emotional return to Tampa exactly a year after the incident to meet the hospital staff who saved Janet's life - a trip that would mark the end of one chapter and herald another new dawn for our intrepid heroine.
Blind Ambition, produced by About-Face Media, is on BBC ONE Northern Ireland on Monday, September 26th at 10:35pm.
Ulster Star
23/09/2005