KNOCKMORE MAN RECALLS LIFE UNDER FIRE
ON BOARD HMS DELHI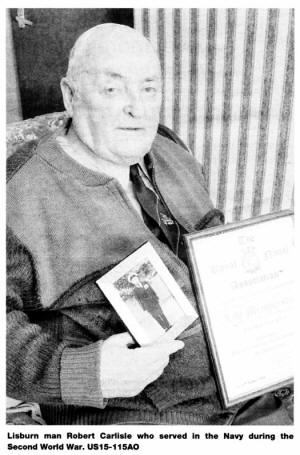 Veteran Robert recalls his war time naval career
THE Second World War was both the best of times and worst of times for Lisburn navy veteran Robert James Carlisle from Ballinderry Gardens.
On one hand his decision in 1940 to join up at the age of 18 allowed him to travel the world and form lasting friendships with his comrades which have stood the test of time.
But on the other it meant he experienced horrors he would much rather forget such as recovering bodies from the sea after enemy attacks on shipping convoys and being injured himself when his cruiser HMS Delhi was bombed by German aircraft - an attack which killed 59 of his shipmates.
He can also clearly remember sailing to the Far East at the end of the conflict to bring home survivors of the cruel Japanese prisoner of war camps in which many British people were incarcerated after the fall of Singapore.
However, he had no idea of the horrors which lay ahead when he enlisted in the navy in 1940.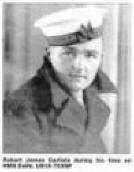 He was just 18 at the time and lived at home with his mother Isla Carlisle at Knocknadonagh on Glenavy Road.
For the young Robert, the outbreak of war provided the perfect opportunity to broaden his horizons.
"As a child I used to climb the White Mountain and look down Belfast Lough to the sea," he explained.
"I would look at the horizon and say to myself 'I know there is a big world out there and I will try and see it.
"When the war came along it presented me with a great opportunity. When you're that young you do not worry too much about taking risks."
His desire to see the world was fulfilled more quickly than he expected.
After an initial period of training he was sent to join HMS Delhi in San Diego, California where it was being refitted.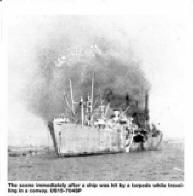 He enjoyed 10 to 12 days on the US West Coast before sailing to the Panama Canal. As the vessel negotiated this amazing waterway the crew heard the USA had entered the war in the wake of the Pearl Harbour attack.
"We sailed up the US East Coast to pick up a convoy for the transatlantic crossing," he said.
"During the trip back to Europe we were attacked quite strongly."
His first experience of warfare was certainly not to be his last.
The Delhi then sailed to Murmansk in Russia to carry out more convoy duties. "Needless to say we were attacked there as well," he continued.
"We used to say if we were hit we hoped we would be killed in the initial explosion because in the icy seas in that area a human being can last only three to five minutes."
At this stage thousands of American troops were being sent to Europe by the US government many of them travelling on the great liners which previously had carried passengers from the new world to the old.
The Delhi escorted both the Queen Elizabeth and Queen Mary as they carried the GI's across the Atlantic.
Trips home were unheard of but in 1942 Mr. Carlisle was presented with an opportunity to visit his family.
"We tied up in Belfast's Pollock Dock," he explained.
"This was in October and my birthday was at the end of the month.
"I visited my family and my mother said I should have a birthday party.
"But next morning when I wakened up on board the Delhi I knew I was not going back to Glenavy Road.
"We were heading due west - the ship was on its way back to sea and we met a huge convoy travelling from the States with literally hundreds of ships.
"We did not know where we were going but we ended up in Gibraltar.,
"At that stage there were so many ships anchored in the harbour you literally could not park a rowing boat between them.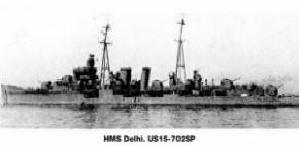 "We had a good idea they were preparing for the North African Campaign and three mornings later when we looked out we were the only ship left in Gibraltar."
The Delhi was assigned to escort the vessel carrying Prime Minister Winston Churchill to the landing beaches.
"We took him to Iran and we were attacked there by two free French destroyers," said Mr. Carlisle.
"After this we proceeded to Algiers to provide ack ack cover for American troop ships."
At this stage the Delhi was coming under heavy attack but around 2.00am, Mr. Carlisle said there was a lull.
One of his friends suggested going to the ammunition house and he passed through a door leading to the stern of the ship.
However, as Mr. Carlisle followed him he saw the door split down the middle. There was a tremendous explosion and the entire stern section of the ship was blown away killing 59 of her crew.
Mr. Carlisle went on witness the surrender of Rommell's forces and once repaired the Delhi was involved in many more of the campaigns fought around the Mediterranean
The ship was attacked on numerous occasions but was then sent back to Britain for a time.
At this stage he took a petty officers course but shortly after the D Day landings the Delhi was at sea again in preparation for landings in the South of France.
This particular campaign didn't last very long and the Delhi was sent home for minor repairs. Then she was sent to the Far East.
"At this stage the war with Japan was still going on but it ended after the atom bomb attacks on Hiroshima and Nagasaki," he explained.
"We got the job of bringing home people who had been prisoners of war of the Japanese.
"We had to carry those people up the gangways - they were just skin and bones. "We actually went on half rations to give them more food but they were in such a state they could not eat."
One particular incident stands out in Mr. Carlisle's mind.
"We made three of these trips but during one of them one of our chaps caught bubonic plague in Aiden," he said.
"He died the following day but when we got to Port Said there was rioting and when we tried to take his body ashore they fired at us.
"The captain gave us orders to man the main guns which were turned on Port Said which had massive hotels along the waterfront.
"He then said if another shot was fired there would be no Port Said left. The man's body was taken ashore."
Initially, after leaving the Navy Mr. Carlisle took a job in London with the British Power Transformer Company. However, his mother became unwell and he returned home intending to stay only a short while.
He decided to look for a temporary part time position in Lisburn and a postman in the town offered to help him find work. However, the Postmaster was himself a former member of the Royal Navy and what started out as a few weeks work evolved into 40 years of providing a postal service to the people of Lisburn.
He married the former Annie Briggs who worked at Sloan Street Post Office and their first home was at Whinney Hill in Stoneyford.
They moved back to Lisburn, settling in the Old Warren area before finally moving to Knockmore.
The couple had five children - Stephen, Bobby, Samuel, Harold, Irene and Alan. They now have 14 grandchildren. Tragically, the past came back to haunt Mr. Carlisle several years ago when he rang one of his shipmates, Michael McDowell at his home in Widnes, Lancashire.
He wished his old comrade a happy Christmas but the response was: "It's not going to be very happy."
Mr. McDowell explained he had just been diagnosed with asbestosis - a legacy of his time on board ship where the pipes were lined with asbestos.
"I immediately went to my doctor and asked him to run a check to see if there was any sign of it in me," said Mr. Carlisle. "Thankfully, there was not but sadly my old friend from Lancashire is now dead."
Ulster Star
22/04/2005