VOICES FROM THE STREET ECHO DOWN THROUGH HISTORY
by JULIE-ANNSPENCE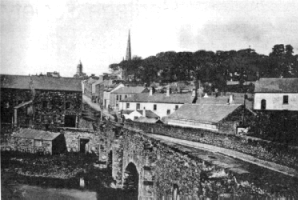 The old stone bridge in Lisburn.
THE life and times of Bridge Street, one of the most historic parts of Lisburn, have been recorded in a new book.
`Voices from the Street; Bridge Street and the Quay of Lisburn' was commissioned by Lisburn City Centre Management and compiled by author Brian S Turner, and includes photographs and personal memories from people who lived and worked there throughout the years.
"The creation of this little book has depended on conversations," said Mr Turner. "At its core is the knowledge, experience and memory of people who have known Bridge Street well.
"It is not a narrative history but is rather a kind of family album for the street, and for Lisburn, containing pictures and memories which may modestly tell us something about where we have come from."
The book provides a comprehensive overview of the history of Lisburn, including the 1863 by-election, the 1901 census and the battle of Lisnagarvey in 1641.
Drawn from the contemporary account of the battle recorded in the vestry book of Lisburn Cathedral, it gives: "a brief relation of the miraculous victory gained there that day over the first-formed army of the Irish, soon after their rebellion, which broke out the 23rd of October, 1641."
There is also a vast collection of rare photographs, including the only known picture of the old stone bridge of Lisburn, which was erected in 1785
| | |
| --- | --- |
| | |
| om Scholes, left, and Sammy Hanna at the door of Schole's Butcher's Shop, in the 1950s. | Workers in Lisburn Gas Works in 1928 |
As well as general information about the history of Lisburn, there are many personal memories of people who lived and worked in the Bridge Street area. There are memories of the Gas Works, Christmas in Millar and Stevensons Ltd in 1921 and of Robbie John Allen's second-hand shop, which is described as "a major presence in large premises at 70 Bridge Street, run successively by Robert Allen and his son, Robert John (Sonny)."
Many people will remember Barclay Greer, family grocer and provision merchant.
One Bridge Street resident remembers: "It really was a perfect Victorian's grocer. I can almost smell it now. I still recall Mr Barclay Greer as a well-built confident figure who sported a heavy moustache.
"That was over sixty years ago and some details have become blurred. But I can still vividly recall my pleasure at the unique blend of aromas that used to permeate the old grocery establishments. I wish I could have bottled some."
These and many more memories and characters are recalled in 'Voices form the Street', which is on sale now from the Irish Linen Centre and Lisburn Museum.
Ulster Star
20/10/2006