It's farewell to our Stanley
Popular caretaker leaves after 39 years
Jacqueline Campbell presents Mr. Graham with a wallet of notes. Others in the picture are Mr. Thomas Welch, principal; Mr. Derek Alien, vice-principal; Mrs. Margaret Clarke, senior mistress; Mrs. Pat Cochrane, head of the infant department, and Mrs. Nora McNally, secretary. E2301
A 39-year-old link with Lisburn Central Primary School on the Hillsborough Road has come to an end with the retirement on Friday, of Mr Stanley Graham, the popular caretaker for all those years.
Mr. Graham, who had been in several jobs, only intended to stay in the school for a month, but instead the month turned into 39 happy years for him.
During his years in the school he served under five principals, the late Mr. Joseph Fletcher, the late Mr. Gerald B. Leonard, Mr. Matthew Shields, Mr. David W. Thompson, and Mr. Thomas Welch, the present principal.
He saw hundreds of pupils passing through the school including the Hall brothers who became doctors, Dr. Alan Leonard, a son of the late Mr. G. B. Leonard and his sister, Elizabeth, later to obtain a degree at Edinburgh University.
Dr. Kenneth McMullen, Mr. Frazer Thompson, son of Mr. D. W. Thompson, vice-principal of a Belfast school, Mr. Philip Shields, B.Sc. son of Mr. Matthew Shields, Alex Elder, the well-known footballer and schoolboy international Wilfred Higginson.
Other former pupils are the Rev. Brian Courtney, rector of Brookeborough, the Rev. Jim Briggs, Banbridge, and Mr. J. J. Marks, manager of the Lisburn branch of the Trustee Savings Bank.
Mr. Graham's brother, Tom, was caretaker of the school for two years and his sister, Mrs. Jack McKay, caretaker for 17½ years.
A former Church Street resident, Mr. Graham, now lives in Jubilee Place.
Friday was a big day in the Central School when tributes were paid to Mr. Graham at a ceremony in the assembly hall attended by headmaster, teachers and pupils.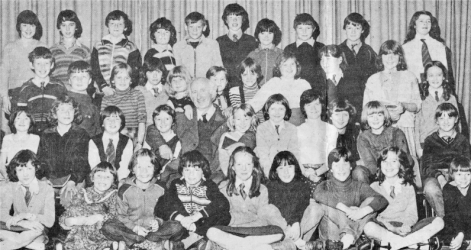 Mr. Graham with some of the pupils who attended the ceremony to mark his retirement.
PRESENTATION
Jacqueline Campbell, a Primary 7 pupil, presented him with a wallet of notes and the children joined in a song in his honour.
Mr. Graham said he had enjoyed his .39 years in the school and had made many friends.
He referred to various people and thanked them all for their good wishes. He would miss his school friends and he wished the headmaster, pupils and staff every happiness.
Mr. Graham is a member of the congregation of Christ Church on the Hillsborough Road, whose rector Canon Arthur Noble, is chairman of the school management committee. He was a pupil at the Nicholson School.
NEW CARETAKER
Mr. Graham's successor is Mr. James French, a Belfast man, now living in Lisburn.
Mr. French served in the Merchant Navy for 21 years, his ships including the Canberra, the QE2, Ocean Monarch and Queen of Bermuda.
He takes a keen interest in tapes for the handicapped.
Submitted by Thomas McKay
04/01/2007