Founding member of Historical Society laid to rest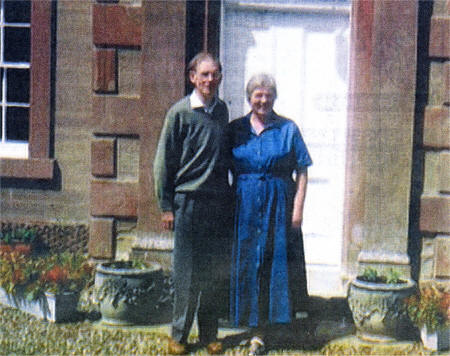 Trevor and Jean outside their home in Perthshire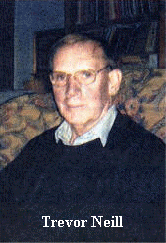 MEMBERS of Lisburn Historical Society were among a large number of people who travelled to Scotland recently to attend the funeral of one of the organisation's founding members.
Trevor Neill was laid to rest in the graveyard at Woodside, Blairgowrie beside his wife Jean following a service in the Parish Church.
The day was particularly sad for the couple s two sons, Timothy and Richard, and their daughter in law Louise who had watched them start their new life in Jean's native Perthshire in 2002 only to see it cruelly cut short 17 months ago when she succumbed to cancer.
Trevor returned to Lisburn last November to attend the Historical Society's 40th anniversary dinner.
He had not enjoyed the best of health in recent years but his untimely death was unexpected and a great shock to everyone who knew him.
During his youth he was greatly involved in the Young Farmers Club and a number of local members were among the congregation.
Floral tributes and messages also came from the organisations representatives in Norway, Finland and Belgium.
Trevor may have left Lisburn but his historical knowledge - described as 'encyclopaedic' - was so comprehensive very little time went by without him receiving telephone queries from his friends in the city.
He served as Chairman and Honorary Treasurer of the Society for many years, helping to build up an impressive collection and archive.
He also knew the history of many of Ireland's grand houses as well as the families who occupied them.
He conducted guided tours of the Linen Homelands having had input into a book on the subject and was also the first guide to conduct a tour of Hillsborough Castle.
However, to those who knew him one particular incident stands out. His cousin Heather Gracey explained: "On a trip to Ragley Hall, home of the Marquis of Hertford, with the Historical Society in 2000, the linen cloth in the dining room caught Trevor's eye.
"He was able to inform them it had been manufactured by Coulsens in Lisburn - something even they did not know," she added.
Trevor, the son of Arthur and Evelyn Neill, spent the very early years of his life in Moira before his family moved to Magheralave Road.
He attended Wallace High School and Greenmount Agricultural College before obtaining a position with Dicksons Rose Growers.
From there he moved to the Ministry of Agriculture and worked for various departments, moving all over the province until his retirement in 1992.
Trevor and Jean were married in 1970 after they met through the Young Farmers Clubs and raised their two sons at Magheralave. Eventually Jean became the Proprietor of Red Cottage Crafts in Moira, supplying patchwork and craft materials.
"Trevor will be greatly missed by a wide circle of friends. His vast knowledge of historical matters will be sorely missed by the Lisburn Historical Society," Heather concluded.
Ulster Star
30/05/2008