Freddie Hanratty was always on the ball!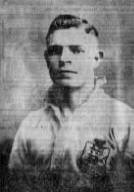 FREDDIE Hanratty, Lisburn's "Mr. Soccer," who is "on the road to 75," looks lively and eager enough yet to head in a few goals. During his time, he has played for upwards of 30 teams, not counting the Summer League.
Freddie could talk about football till the cows come home, from Moira, and can still recall goals he put in the net years ago.
"You know, I scored as many goals with my head as I did with my feet. I didn't care what height the other fellow was, I was always two feet higher going up with the head," he says, with boyish enthusiasm.
He has never lost that great enthusiasm for the game he loves.
He started off kicking a sixpenny ball in Barnsley Row, then in Wallace Park, and then the Grove. He played in The Shopkeepers' League and the games were always played on a Wednesday, that being the half-day, I suppose.
Anyone remember The Caddie soccer team? In his first game he scored the two goals that made it 2-0 for The Caddies.
Here are some of the teams Freddie fielded for: Lisburn Rangers, Lambeg Rangers, Lambeg Bleachers, Dunmurry II, Distillery II, Glentoran II, Dromore Utd., Alliance Div. 1 and 2, Larne II, Bangor 1st, Newry 1st, Lambeg Aircraft, Dromore Amateurs (who played in the top flight of the Amateur League), Sunnyside, Lurgan; Montalto, Ballynahinch; Brantwood II; Aircraft Works, Sydenham; Rosevale; Orlitt, Lisburn.
That's but a handful and I'm sure there were many more.
"When I was with Glentoran II, I went down on the train from Lisburn to the GNR station in Gt. Victoria Street. Then I ran all the way to the Oval and back again to the station when the match was over. I thought nothing of the run. It kept you fit, but that was back in the Twenties and I could have played on the field for hours and then turned round and ran for hours."
In the Alliance League, Freddie played five games for 25 bob, five bob a match. And he was "Given the Jersey" as pick of the Alliance, playing left-half.
For some time while playing for Dunmurry, he was also groundsman for the club and walked the whole "cut" from Lisburn, there and back, on Tuesdays and Thursdays.
"The players got half-a-crown a week, but I got seven-and-sixpence, five bob extra for being groundsman. Among those who played for Dunmurry II Division in the Thirties was Gerry Mateer, who went on to field for Blackburn."
There was another side to Freddie Hanratty.
In the local entertainment world he was the founder of Hanratty's Krazy Gang. and took the stage at among other places, Lisburn Assembly Rooms, Lisburn Legion Hall, St. Joseph's Hall. and once when doing a show in Lambeg Orange Hall, they brought along an Hibernian drum. Fred used to think up the scripts, mostly at night when in bed. Stalwarts of the Krazy Gang included Sammy McShane (Hellfire Kate); the late Jimmy Kernahan (Whiplash McCord): Patsy McCaugherty (with the Bing Crosby voice), Danny McShane, Arthur Rooney, Bob Rooney; Tom McKeown, Bob Lyness, the late Paddy Kerr (accordion), Paddy Taggert, who is still singing away.
They staged shows such as "Wild Bill Cody's In Town" and "The Hillbillies." And Freddie, himself, played the part of Wild Bill Cody. They got £9 per show, which had to be split between around nine performers.
Freddie was born in Ligoniel and came to Lisburn when he was nine. "There wasn't a school in Lisburn that I didn't go to — Protestant and Catholic. so you could say I received a liberal education." He started work when he was nine gathering spuds and was 33 years in the aircraft factory and charge hand for five years at Altona on the Old Hillsborough Road.
And, finally, back to his beloved soccer: "When I was in my prime I had all the others running round in circles. They didn't know whether they were coming or going. I was still playing when I was well over 40."
After listening to the effervescent Mr. Hanratty, who today is a model of tonsorial elegance. I would not doubt that claim at all.
Fred Steadman
IN THE early days the late Fred Steadman, of Bachelor's Walk, Lisburn, started a team and simply called it Lisburn FC. Fred, of course, went on to become something of a legend as a Glentoran scout. He was also a prominent scout for cross-Channel clubs and was instrumental in signing Jimmy Mcllroy for Burnley. After he stepped down from the soccer scene Steadman and his two greyhounds were familiar around Lisburn.
When Freddie Hanratty was playing for Lisburn, it was Steadman who signed him for Larne II Division.
Freddie could write a book on his football days and once he goes into full spate it's hard to stop him, but he can recount days of glory on fields of the past with gusto. "I always look back with great pleasure to 1939, just before the war broke out, when I was playing the Summer League season for The Moy."
Well said, Freddie, me boy, there are some ill-informed folk who'd call it "Moy," but as anyone around that part of the world rightly knows, it is always called "The Moy," the village just over the river Blackwater in Tyrone, and which was modelled after an Italian village. And, of course, The Moy was world famous at one time for its Horse Fairs, now gone, alas, like the days of the Kerry Dancing.
"Also playing for The Moy then were Bunty Corrigan, Nipper Maguire, Victor Lynas," says Freddie.
In 1943, Freddie fielded for Lambeg Aircraft team, which won the Amateur League that year. He scored three in the first game and three in the last game against Sirocco.
Perhaps his proudest moment was many years ago, going down from Lisburn to Lyttle's Studios, Donegall Place, Belfast, to have his photograph taken — in the famous Dixie Dean's jersey.
The legendary Dixie, first of all, gave the jersey to Robert Irvine, of Everton, a Lisburn man, and he in turn sent it over to his brother David, who then gave it to Fred Steadman, who gave it to Freddie when he was going to have his likeness taken.
"It felt great to be photographed in Dixie Dean's jersey," says Freddie. "I felt over the moon that day. I wonder if anyone else ever had that honour?"
Boxers
| | |
| --- | --- |
| | |
| Jim Keery | Jimmy Warnock |
Click on photos to enlarge