Hundreds pay their respects to well known Lisburn businessman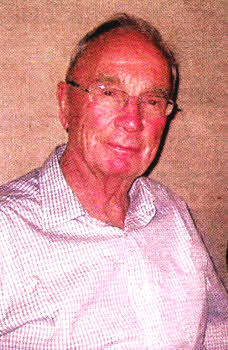 THERE was a massive turnout recently at the funeral of one of Lisburn's best known businessmen, Mr Brian Boyd.
Hundreds paid their respects at Railway Street Presbyterian Church to Mr Boyd, formerly of local printing company 'Alexander Boyd Displays' who passed away on July 6. He leaves behind his wife Glenis, children Stephen, Robin, Julie and Wendy and his 11 grandchildren.
Mr Boyd was born on January 25, 1933 in London, to Alexander and Kathleen Boyd. He had an older brother Donald, who died in 1986.
During the Second World War both brothers were evacuated to Peterborough where they were not very happy, running away on at least one occasion.
In 1941 the family moved back to Belfast, where his mother died prematurely of a heart attack - Mr Boyd was 8 years old at the time and while his father was working in the Ritz Cinema in Belfast, he was looked after by his Aunt Millie, his father's sister, amongst other members of the family.
He was educated at Grosvenor High School, leaving at 14 to work with his father in his recently formed company, Alexander Boyd Displays, producing exhibition stands, Lord Mayors Floats, Cinema Posters and various displays. There was a parting of ways when Mr Boyd left Belfast to go to London, ostensibly to learn about printing. This is where his luck changed and he met his future wife Glenis. Initially he went to Canada in March 1957 and Glenis followed in July. They married in October of that year.
Stephen Boyd explained how his father ended up developing the highly successful business as it is today: "His first job in Toronto was selling for Encyclopaedia Britannica. He also applied to the Canadian Royal Mounted Police, but he was rejected as he was a half inch too short" said Stephen. "He then joined a Printing Shop in the City. It was in 1959 that my Grandfather Alexander, supposedly visiting Mum and Dad to meet his new grandson, actually persuaded my Dad to go back to Belfast to help him run the business. From that small beginning, hard work and many sacrifices, Alexander Boyd Displays developed into the company it is now. It supports many families, and this is due, in no small way, to my father Brian." Stephen described his father, who was Chairman of the Publicity Association of Northern Ireland in 1968, as being "most definitely a joiner and he "always committed himself 100% in whatever he did". Stephen said: "One of his close friends summed him up. He was loyal, honest, respected and loved in business and socially.
"He was a keen Rotarian with the Lisburn Club, joining in 1966, becoming President in 1977. Year after year he attained 100% attendance which led to his appointment as District Attendance Officer.
At the Annual Four Home Nations Rotary Golf at St. Andrews, he played four times for the Irish International team.
"He loved all sports and played many, but his favourites were Rugby, Squash and Golf. He played Rugby for Osterley in London, Wanderers in Toronto and Cooke and Grosvenor in Belfast. He played Squash at the Conway Hotel, Lisburn Racquets and Malone Golf Club. Golf was his number one sport. He played at Lisburn and Portrush, but mainly at Malone. Malone played such a big part in his life and he represented the club in many Interclub matches - in the Ulster Cup, Jimmy Bruen, Pierce Purcell and J.B. Carr teams."
Stephen continued: "In 1987 he became the Captain of Malone, which was undoubtedly the highlight of his golfing experiences. A lasting tribute to him is the Annual Juvenile Boys Open Stroke Competition for the Boyd Cup, which he instituted in 1975 when serving as the Juvenile Convenor."
He added: "You would think that with all this he wouldn't have time for anything else, but he made time for his family, Mum, Robin, Julie, Wendy and myself, and in more recent times, with spouses Heather, Euan, Richard and Maxine, along with all the 11 grandchildren, his mixed football team as it were. He was always been interested in what they were doing and what they were going to do. He shall be sadly missed by the whole family."
Ulster Star
06/08/2010