Well known clergyman and former churches correspondent passes away at the age of 91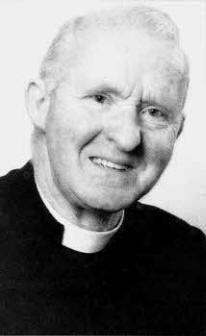 ONE of the Lisburn area's best known clergymen passed away peacefully at the weekend at the age of 91.
The Rev John McCaughan, who was minister of Legacurry Presbyterian Church for 34 years, was also a distinguished and much loved churches correspondent of the Ulster Star for four decades.
Rev. Mr. McCaughan, who lived at Portulla Drive off the Antrim Road after retiring, died at Montague Care Home in Portstewart on Saturday, August 14.
Born in Ballilea, Ballycastle on November 7 1918, he attended Moygaret Primary School and Ballycastle High School before going on to Magee College in Londonderry, Trinity College in Dublin and the Union Theological College in Belfast.
In 1943 the Rev. Mr. McCaughan became the first minister to be called by the joint congregations of Cremore and Tyrone's Ditches in Poyntzpass and remained there until 1949, having received a call to the congregation of Legacurry.
He married his wife Mollie in 1948 and they had three children - John who died when he was just seven months, Kay (who is married to the Rev Ivan Hunter) and Jim, who is minister of First Dunboe Presbyterian Church.
The Rev Mr. McCaughan remained at Legacurry until his retirement in 1983, but even then there was to be an extra role. He and Mollie became members of Railway Street Presbyterian Church and in 1984 the minister there, the Rev Howard Cromie, was elected Moderator of the General Assembly. He asked Mr McCaughan to take on pastoral responsibility in his absence.
He also served as clerk for Dromore Presbytery for 13 years and was Minister Emeritus at Legacurry.
Through all these years, the Rev Mr. McCaughan was synonymous with the Ulster Star. His extensive knowledge of the churches around and beyond Lisburn and his wonderfully crisp style of writing made his weekly column a must read.
John and Mollie moved to sheltered accommodation in Portstewart in 2003 to be nearer their family but sadly Mollie (nee Lyons) passed away in 2005.
His son, the Rev Jim McCaughan, says he will remember his father as a ,loving and caring, man.
He was a loving husband, a good father, a hard worker and a very dependable minister," he said. "He was a keen football fan who loved to watch a good football match. He liked to play golf every week. He always said that he was no good at it and only went for the craic."
Another of his passions was reading.
Of his father's four decades at Ulster Star, the Rev Jim said:
"He always boasted that he never missed a week working in the Ulster Star during that time," he said. "Even when he was going on holiday he made sure that he had articles to cover the time that he was off."
The Rev McCaughan was grandfather of Paul, David, Kathryn, Jennifer, Christine and John, and dear brother of Sally.
His Funeral Service took place on Tuesday (August 17) at Burnside Presbyterian Church, Portstewart followed by interment in Toberkeigh Presbyterian Churchyard.
Ulster Star
20/08/2010