A fitting memorial
Letter in the Daily Mail Friday November 11, 2011
AFTER reading about the disgusting crimes involving the theft from, and desecration of, British war memorials (Mail), I thought those responsible might care to read this letter (below) from a young soldier in the Rifle Brigade, sent to his family two days before his death in one of the later engagements of the Battle of the Somme during World War 1.
He and millions of others gave the ultimate sacrifice so that later generations may have a better life.
Reading the short letter you can see that even in his most lonely hour, his thoughts were not for himself but for others — a truly brave man, like his fallen comrades. Yet some characters now repay them by stealing, for a few pounds, the monuments dedicated to these heroes. Shame on you, and on the scrap dealers who buy such things. You may take away the plaques and statues but you can never steal our gratitude.
The Aunt Grace mentioned in the letter was my grandmother
D. CRONIN, London E2.
Cpl. J, Comar
7. Platoon B. Coy
3.9.1916
Dear Mother,
I am pleased to say that I am going on all right up till now, we are going to attack in a few hours and if get through it safe which I hope I do, If I don't I have had enough of' it as you know, I am not afraid, my only worry is for you and the children, but it cant be helped, so try and not upset yourselves too much, I know it will be hard. God bless you and the children, and Grace, Nellie and Timie, who I hope will stick to his work. Remember me to Mr and Mrs. Knight and Polly and all the Neighbours and p1ease give Dear aunt Grace a keepsake in remembrance of me I Cannot say any more.
Remember me to Charlie and Uncle Jack hope to find all at home enjoying the best of health.
I remain
Your Affectionate Son Jack
Goodbye and God Bless you all.
xxxxxxxxxxxxxxxxxxxxxx for you all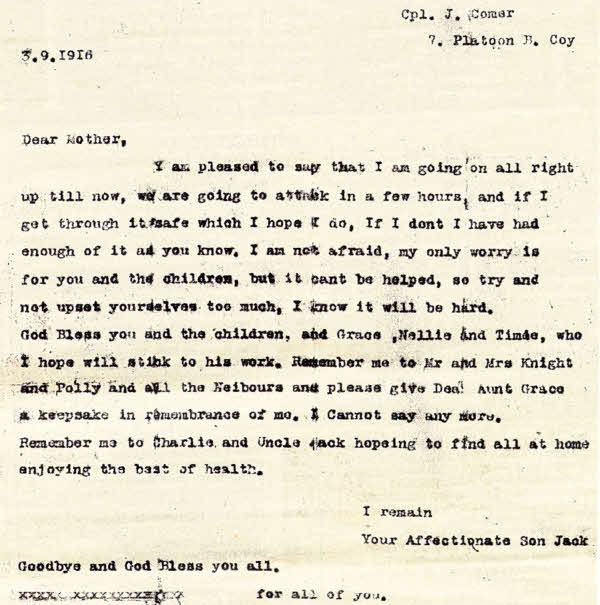 News from the front: The young World War I soldier who wrote this letter to his family died two days later.
11/11/2011