Boost for African children's charity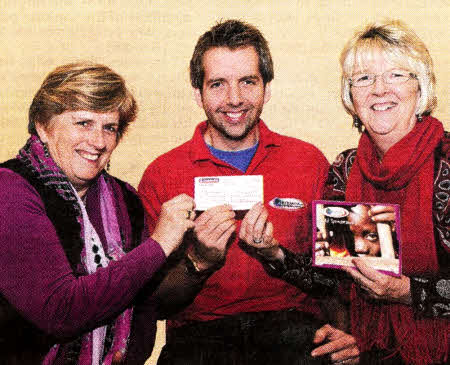 Roger Gowdy on behalf of the African charity Abaana receives a cheque from Margaret Artt (left) and Carolyn Gowdy (right).
At a recent coffee morning hosted by Margaret Artt at which jewellery made by Carolyn Gowdy was on sale, £500 was raised for the African charity Abaana.
This charity, whose name is taken from the East African word for "children", was set up in 1998 to help African children and their families caught in the trap of poverty. Roger Gowdy, the son of Carolyn and Maurice Gowdy, has just returned from a visit to Uganda with his new employers Abaana.
Previously a finance analyst with BT, Roger recently took on the role of Child Sponsorship Co-ordinator with this charity based in Bangor.
Along with the charity's Managing Director Scott Baxter, Roger visited the many projects undertaken by Abaana, seeing at first hand the work being done in schools built by Abaana, the Abaana 'New Life Homes' for street children, and in micro-finance — helping local people set up small businesses to support their families.
Roger explained: "Part of my job is to encourage more sponsorship of these children living in poverty- just £14 per month will send a child to school, giving them a better future and a chance of breaking out of the vicious poverty cycle.
"While in Uganda I was able to train some of the Ugandan Abaana staff in more efficient use of IT and take video footage of the work being done there which will help to explain the harrowing stories of these families to our local community."
Roger and Scott travelled to inspect some Abaana projects in Gulu in the north of Uganda where some of the worst conditions arose as a result of lawlessness and violence following war and political unrest.
Roger continued: "Despite their grave need, these families have learnt to be content with
very little and they welcomed us warmly into their homes and classrooms. I have benefited enormously from this visit and hope to increase awareness of poverty as I go around speaking to organisations, church groups and in schools, encouraging and empowering them to make a difference."
While welcoming all donations, the charity operates a gift scheme where you can give a friend a
voucher for such things as a hen, goat, building and educational materials— an excellent Christmas present which benefits these under-privileged children.
Abaana also has a charity shop in High Street Bangor. Anyone wanting to contribute to this charity, invite Roger to talk to their organisation, or simply find out more information, can email Roger at roger@abaana.org
Ulster Star
03/11/2010