Adam hits the right notes to achieve a musical diploma
by STACEY HEANEY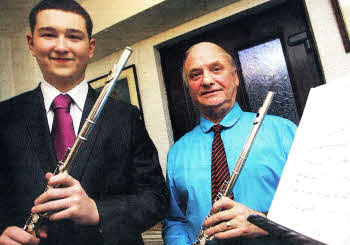 LISBURN boy Adam Higginson was in tune with his examiners when he achieved a distinction in his ATCL Performance Diploma -one of the youngest pupils to have achieved such a feat.
15-year-old Adam, a pupil with Brian Houston, received the distinction in his exam for the Concert Flute through Trinity College London, and he is now studying for his next diploma.
Adam's dad Brian said: "We are very proud of Adam's achievement as a family, he is a very hard worker."
He added: "Adam and ourselves are truly grateful for Brian Houston's tremendous teaching of Adam. We as a family would like to thank Brian for his devotion to Adam."
The Fort Hill College pupil's mum Dehra said: "It takes a lot of hard work going from a grade, which is hard enough, to the diploma, which is harder again."
Adam's ambition is to join the army and he spent last summer with a number of regimental bands in England, including the Coldstream Guards, the Irish Guards, the Royal Regiment of Scotland and the Royal Artillery.
Dehra continued: "He hopes to join the Royal Military School of Music when he finishes school, that is what he wants to do." Adam's music teacher Brian Houston, who also teaches at the Lisburn School of Music, commented: "Adam joined me when he was ten years old and I have taken him through
Grades 1 to 8 and now this Diploma. This is very unusual as Adam is only 15. I have never heard of anybody of 15 getting a Diploma.
"Adam is really dedicated to the instrument and it is a pleasure to teach him. He will next move onto the Higher Diploma, which he is already studying and will take the final one, the Fellowship, next year; that is as high as you can go really."
Brian added: "Adam is a very dedicated pupil, if you give him something to do he would come back with it perfect the next week.
"I would hope that when he goes into the army that he will go in at a higher position. My ambition would be for him to take up a musical directorship in one of those bands as that is what he is capable of. They would normally specify a Grade 8 and he has a distinction in that as well as a Diploma."
He concluded: "I have been teaching for years and Adam is probably the best that I have produced. There have been many good musicians but he would be the top I have turned out, which is mostly credit to himself because he is a hard worker."
Adam Higginson with teacher Brian Houston. US0210-107A0
stacey.heaney@ulsterstar.co.uk
Ulster Star
15/01/2010