ANCIENT HARP FINE-TUNED FOR CONCERT
WORLD RENOWNED HARPIST TO HELP NATIONAL LOTTERY CELEBRATE BIRTHDAY
THE Irish Linen Centre and Lisburn Museum will host a truly historic event when an ancient harp, painstakingly restored with National Lottery funding, will be played in public for the first time in many decades.
This first public performance of the 18th century Egan Harp will take place before an invited audience on National Lottery Day, November 6, and will feature world-renowned harpist Danielle Perrett.
The instrument, a single action concert harp, was made in Dublin by John Egan sometime between 1800 and 1820, and was of a type destined to be played in great drawing rooms and libraries. Many of his harps now sit in museums worldwide.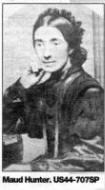 This particular harp originally belonged to a Lisburn music teacher, Miss Maud Hunter, who was born in 1860 and died in 1951 at the ripe old age of 91. Miss Hunter, who lived for a time at 19a Bachelors Walk, Lisburn, taught the piano, played the church organ, and was a concert harpist known to have played in the Ulster Hall.
She went blind in her old age, and after her death her beautiful harp found its way into the attic of her great nephew, Mr FS Napier. Mr Napier left the harp to Lisburn Museum following his own death three years ago.
At the time of the donation, Ian Vincent, the museum's deputy curator, said the harp was in a bad state of disrepair. Eaten up with woodworm, its metalwork and gilded surfaces had corroded and the classical figures and motifs which adorned it were badly damaged - but he was not disheartened.
He recognised its potential and knew it would have considerable presence as an artefact in the museum's collections. However, he also realised that it would be worth taking the gamble of having it restored to playing condition rather than it remaining a dumb but visually beautiful object in a glass case.
A grant of more than £11,000 from the Heritage Lottery Fund gave the museum to backing it needed to take both gambles.
Ian said: "The National Lottery is to be congratulated on being the one to go the extra mile to see if we could get a playable harp out of it. As artefacts go, musical instruments are immensely more accessible when we can hear what they sounded like as well as looking at them. We are custodians of public property and public money has been used to bring this back, as it were, from the dead." The harp has spent its last months in the workshops of Clive Morley Harps in London and Gloucestershire.
Its restoration has been a complete success, and Miss Perrett has agreed to play it in Lisburn for its first public performance.
Since making her debut recital in 1983, she has regularly appeared on , TV and radio and in Europe and the Far East, as well as at major venues , and. She is head of harp studies at the London College of Music and Media.
The National Lottery 10th Birthday recital of Lisburn's Egan Harp will take place at the Irish Linen Centre and Lisburn Museum. Public concerts by a local harpist will be held at a later date.
Lisburn will also be celebrating National Lottery Day by holding free guided tours at Castle Gardens, currently being restored with the help of a National Lottery grant.
For more information on the tours, please contact Lisburn Museum on 9266 3377. Lisburn's Island Arts Centre will be hosting a free art exhibition as part of the celebrations.
29/10/2004