Brave Dromore woman battles new illness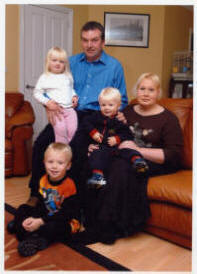 A DROMORE woman who had a miracle baby seven years ago after recovering from serious illness is promising to battle back after another cruel blow.
Gail Stronge (31) from Lagan Green Road is now waiting to have a benign brain tumour removed after being diagnosed at Christmas.
But despite this, she says she is more determined than ever to fight back.
Gail's life story could hardly have been made up.
In 1977, at the age of just four, she had lymphoblastic leukaemia and had to undergo extensive chemotherapy and radiotherapy to treat the illness.
Her condition, and the brave fight she put up, persuaded her aunt Iris to found the Lisburn Leukaemia Research Committee which has helped to raise awareness and money for research ever since.
At the age of 15 in 1988, Gail suffered a cyst on her ovary which, along with her fallopian tube, had to be removed.
Doctors said she could never have children but in 1998, against all the odds, she gave birth to her first of three children - George. She has since had two other children Molly, who is four, and three year old Harvey.
Gail then suffered two mental breakdowns which came about after the death of her brother in 2002. He was killed in a freak speed boat accident in Dubai on New Years Eve.
Then six months ago, after suffering from recurring headaches and fatigue, a cat scan showed that she was suffering from a brain tumour.
Gail is now on the waiting list for an operation at the Royal Victoria Hospital which she is due to have in the next two months.
In the meantime she is on medication to curb the tumour which has affected the movement of her left leg.
"The doctor has told me the tumour is benign," Gail said. "Now it is just a waiting game which can be a bit distressing at times.
"I have to wear a splint on the leg to help me walk but I get dizzy very easily and cannot do too much. I cannot bring my children to school and have to rely on my mother.
"I also cannot do any housework as I get dizzy very easily.
"I know I have come through so much and it is my faith that is helping getting me through this," she said.
"I became a Born Again Christian after my brother died and I have a very strong belief in God."
---
Gail has had the tumour successfully removed in the Royal Victoria Hospital and is now recovering at home.
The family would like to thank Mr Gray and the staff in ward 4 Royal Victoria Hospital and also Mr Trimble and staff in ward 4 Craigavon hospital.
Jim and Elva Collins
Ulster Star
4/03/2005